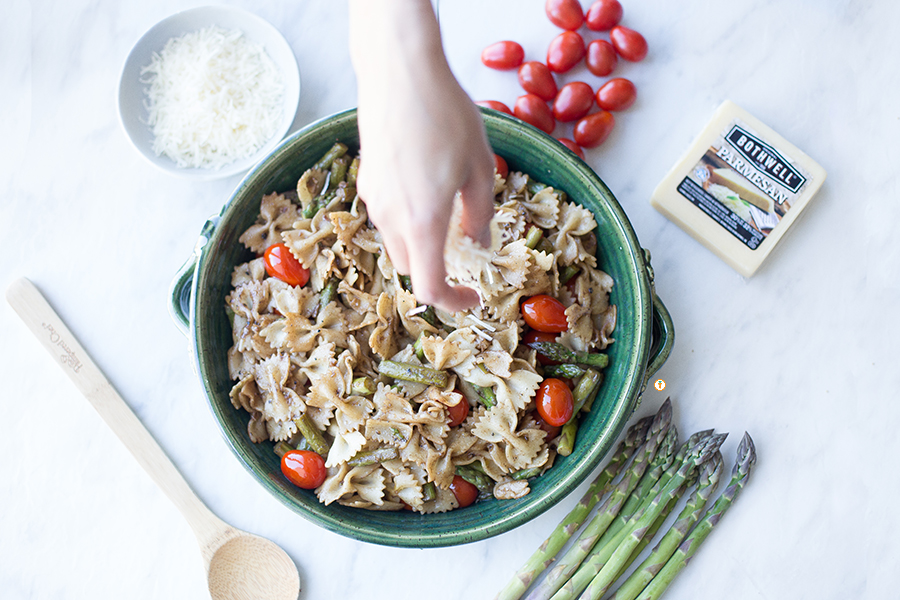 YAASSSS. Asparagus is finally in season. I remember being in my twenties and trying a spear of asparagus for the first time. I was confused. But then I had another spear. I was hooked. Since then, I've enjoy asparagus in many ways from grilling, steaming, wrapped in prosciutto and mixed into a summery pasta dish!
This pasta recipe is SO EASY to throw together on a busy weeknight. Washing and trimming the asparagus ahead of time will help make this a total breeze. Besides, doesn't everyone love pasta?
Here are a few reasons why you'll enjoy this recipe and feel good about eating it:
It's colourful – beautiful red and green colors make this pretty on the eye
The whole wheat pasta will keep you full
You can top your pasta with any cheese you desire, I used Bothwell Cheese Parmesan but it's also taste with goat cheese and feta cheese; if you're vegan you can nix the cheese or use your favorite dairy-free product!
It includes 9 only ingredients! NINE!
The olive oil is super heart health and anti-inflammatory (remember, we talked about that here)
Kay…one more picture, and then I'll share the recipe!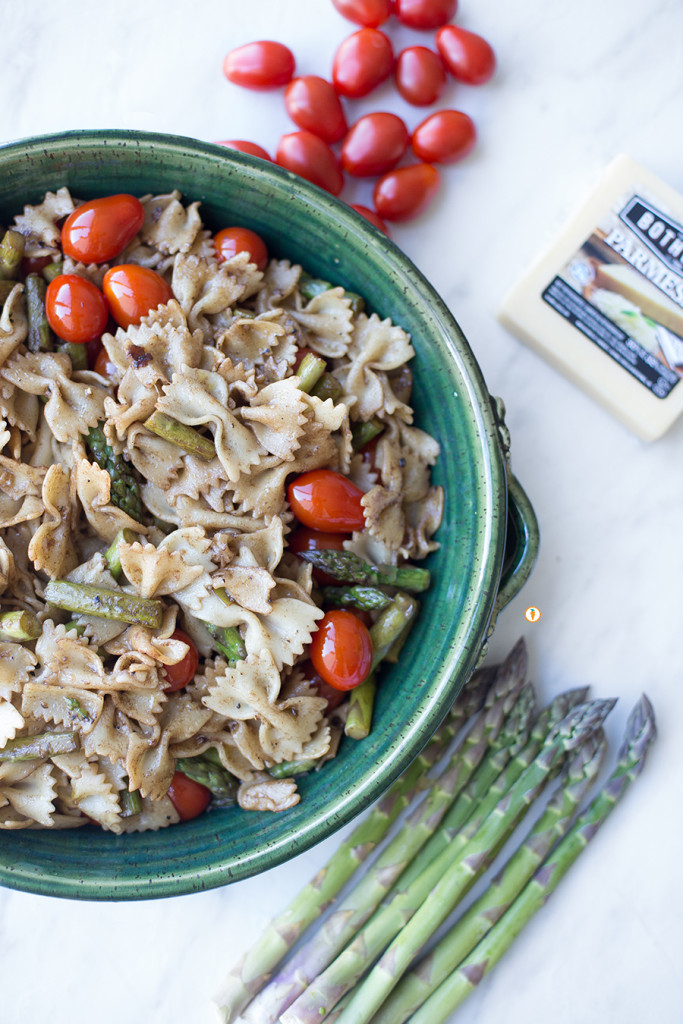 Asparagus and Cherry Tomato Pasta
Ingredients
2 cups whole wheat pasta (uncooked)
approx 20 spears of asparagus, washed, trimmed and cut into 1 inch pieces
1 cup cherry tomatoes, halved
2 cloves garlic
¼ cup and 1 tbsp olive oil
¼ cup balsamic vinegar
Salt and pepper, to taste
⅓ cup cheese (parmesan, goat cheese or feta cheese)
Instructions
Cook pasta according to package directions. Drain and set aside.
Meanwhile, sauté asparagus in 1 tbsp olive oil over medium heat. Continue to cook asparagus until it is tender.
Add in garlic, cooked pasta, remaining olive oil, balsamic vinegar, salt and pepper. Mix together and heat through for about one minute to allow the garlic to infuse itself into the dish.
Add in cherry tomatoes and continue to heat the pasta through for 5 minutes or until cherry tomatoes begin to wilt.
Remove from heat. Top with cheese.
Food photography done by the talented Ceone Dyck. To learn more about Ceone click here

 

or follow her on Facebook.
Don't forget to follow Carrots and Cake on Instagram to see tiny square snap shots of my life.
                 – With Love, Carrots and Cake,