Earlier this week on the blog we shared some tips on how keep things "fresh" when it comes to salads. If you missed that post, click here. This time around we've enlisted other veggie varieties to create a salad.
This time around I opted to roast butternut squash for a nutty flavour that just-so-happens to be pretty to look at. Butternut squash is particularly rich in beta-carotene which is what gives the flesh a bright orange colour.  In our body beta-carotene is tactfully converted to vitamin A. This under-rated nutrient imparts anti-cancer benefits, helps our immune system, acts as an anti-oxidant and helps to fight signs of aging (yes please!).
Side note: I actually use frozen pre-chopped butternut squash. Frozen produce is often priced well and the nutrient content is just the same. With our busy schedules I often don't have the time (or strength) to cut through a squash. Now that's a convenience food I'm down for. 
For the starch component I opted to use wheat berries. New to this grain? Actually, you're not! Wheat berries are intact WHOLE-wheat kernels! That's what your all-purpose and whole-wheat flour are milled from. Once cooked (basically you boil the crap out of them) they have a mild nutty flavour that most of us can enjoy. This whole grain is great in a salad because it has a chewy texture that holds it's shape (aka it won't get soggy on you). Because wheat berries go through  minimal processing they retain a lot of vitamins, minerals and antioxidants making it an A+ choice for your salad.
Side note: I got my hands on these beautiful wheat berries when I was at Canola Harvest Camp visiting a grain elevator. I made friends with a fellow farmer and she hooked me up with a stash. Score!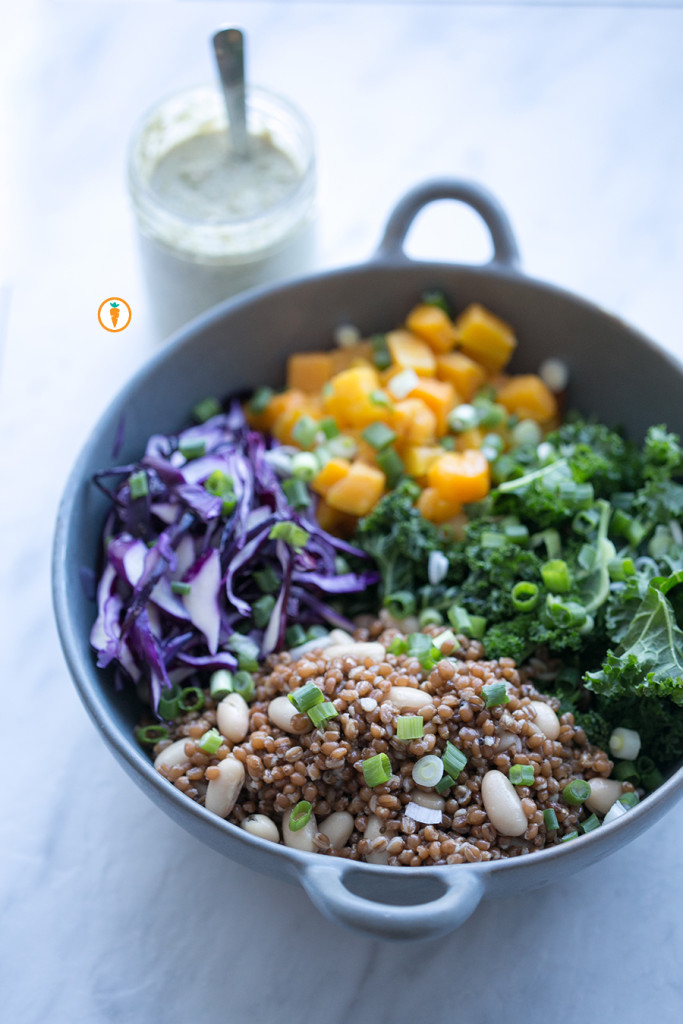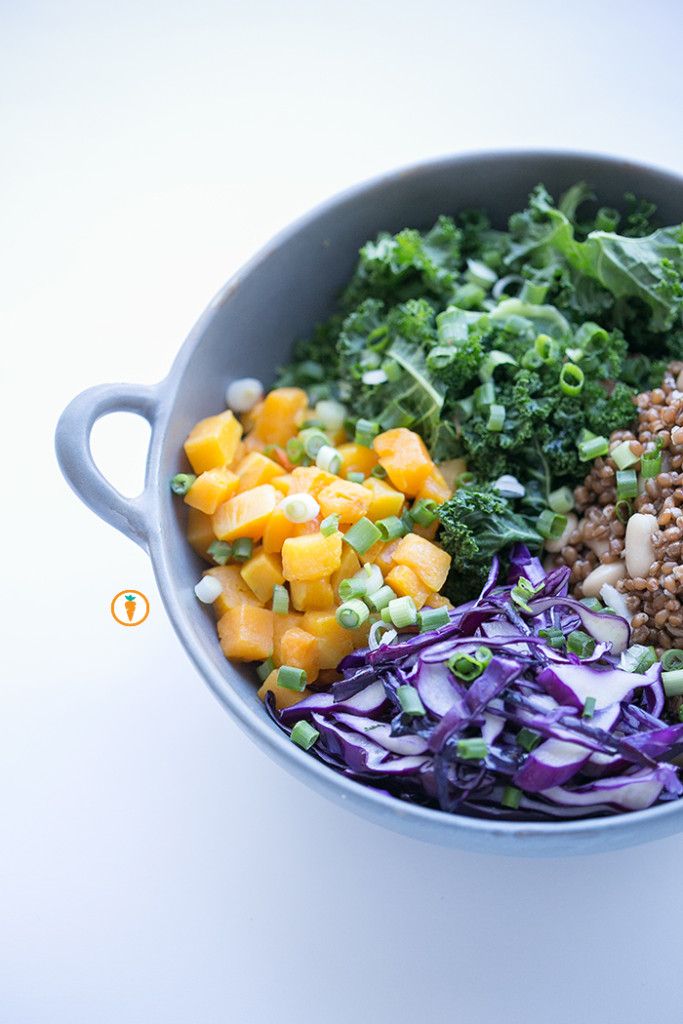 Now in the last post we talked about how you should dress your salad. Here, I'm going to get you out of your comfort zone to make a creamy salad dressing using seeds. Yeah! Pumpkin seeds! The inspiration for this dressing came from a plant based blog My New Roots. The final product is a really interesting one – the dressing has a grittiness to it and tastes lovely on the bed of veggies. It won't drizzle like a typical dressing so don't be alarmed.
Okay, okay. Enough with the nutrition rant. Look below to learn more about how I assembled the salad:

Roasted Butternut Salad Bowl
Ingredients
½ cup wheat berries
Butternut squash, cubed (use as much as you would like)
Kale
Red cabbage, shredded thinly
White kidney beans or cannellini
Green onion, chopped
1 tsp olive oil
½ cup pumpkin seeds
1 clove garlic
1 - 2 tbsp maple syrup
2 tbsp olive oil
1 tbsp white wine vinegar
Juice of half a lemon
¾ water
Pinch of salt and black pepper
Instructions
Rinse wheat berries under water to ensure they are clean.
Bring 1¼ cup water to a boil on the stove. Add rinsed wheat berries to the boiling water and stir. Once water starts to boil again, turn the heat to low, cover, and simmer for 45 minutes to 1 hour. You know the wheat berries are done when they are soft.You'll have enough wheat berries for 2 - 3 servings.
While your wheat berries are cooking toss your butternut squash with olive oil and roast in the oven for 20 minutes at 350 degrees celsius or until they are cooked through.
Massage 1 tsp of olive oil into your kale. This helps to soften the kale so it's not so tough.
Once your wheat berries and squash are ready, assemble the remaining salad ingredients into a salad bowl (shredded cabbage, white kidney beans, kale and green onion). Add as much or as little of each ingredient as you wish (yup, you decide what and how much you want).
For the dressing: toast pumpkin seeds in a non-stick pan over low heat for 10 - 12 minutes until they become fragrant. In a food processor blend: cooled pumpkin seeds, garlic, maple syrup, olive oil, vinegar, lemon juice and water. Season as desired with salt and black pepper.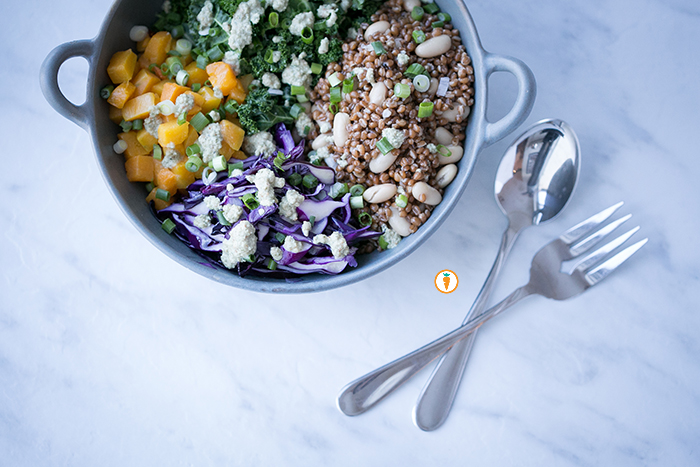 This recipe was created with the help of Christy Lai, 4th Year Human Nutritional Sciences student. Follow Christy on Instagram, trust me, you'll want to. Food photography done by the talented Ceone Dyck. To learn more about Ceone click here or follow her on Facebook.
                 – With Love, Carrots and Cake,