For the girls night in I hosted, I had my foodie friend Peter Fehr of Gourmet Inspirations help me serve up a few appetizers using his handmade finishing sauce, Strawberry Balsamic with Basil. Let me tell you, if anything was a hit that night, it was this baby right here. Perfectly cooked, crunchy and flavorful is exactly what this dish was. But, to be honest–I wouldn't expect anything short of perfection from Peter. I'm excited for him to continue sharing his product with the world and wish him all the success (don't worry, more to come with Peter in future posts)!
Salmon is loaded with a bounty of nutrients. Rich in omega-3 fatty acids it offer a TON of anti-inflammatory properties for our body. It also serves as a source of vitamin D and is an excellent choice for lean protein. There are so many ways to cook up salmon–you can grill it, poach it, pan-fry it, bake it or even steam it. For this recipe, we created a crunchy crust by processing almonds and submerging the salmon into it. I wouldn't have had it any other way! For the purpose of serving this dish "appie style" we opted to slice the salmon into strips and just before serving, Peter arranged them beautifully into bite size pieces.
Thank you Peter for lending a hand, sharing your passion and getting us

inspired. Recipe below: 
GNI Feature: Almond Crusted Salmon with Gourmet Inspiration
Ingredients
2 salmon filets, skinned
Salt and pepper to taste
All purpose flour as needed (approx ½ cup)
1 egg, beaten
½ cup sliced raw almonds (or slightly pulsed), spread on a shallow plate
2 tbsp. olive oil
4 Tbsp. Gourmet Inspirations' Strawberry Balsamic with Basil Sauce
2 fresh strawberries for garnish
Instructions
Season salmon with salt and pepper
Dredge one side of salmon in flour
Dip that same side in the beaten egg
Press salmon with sliced almonds (on the egg/floured side only)
Flash fry in olive oil on a shallow pan, set to medium-high heat (approximately 2 minutes)
Bake at 400F for 15 minutes or until salmon is cooked through
Top salmon with strawberry balsamic sauce
Garnish with a fresh sliced strawberry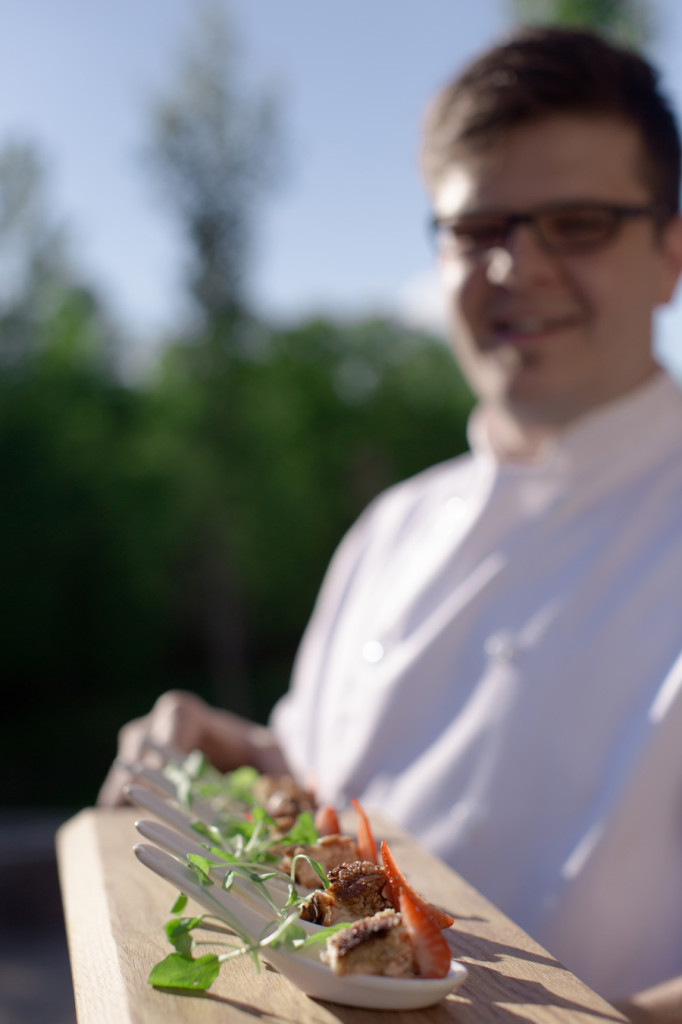 Photo credit goes to my friends at Samba Joy – Photo & Art. They-da-bomb!
p.s. If you haven't already checked it out, this is a short snippet of what my #gni looked like. Enjoy!
                 – With Love, Carrots and Cake,