Breakfast. The most important meal of the day. No, it's not an old wives tale or a myth. It's a fact folks. In my practice I meet a lot of clients that just can't stomach the idea of having a meal first thing in the morning. I always explain the benefits of breakfast very briefly, but also offer new and novel ideas. Some people have just over-killed "breakfasty foods" – you know the toast, cereal, porridge, eggs and sausages, the list goes on. I get it, it gets boring. But heck, think outside the box. I don't care if you have a sandwich for breakfast or even leftover lasagna. Just have something that is balanced (aim for 3 food groups)! If breakfast for dinner is appropriate, why can't we have "dinner" for breakfast? Sometimes, years of eating cereal or oatmeal the traditional way can get boring.
There's also no harm is postponing breakfast either: such as, waiting until you've gotten to your office or had some time to really "wake up".
–    Breakfast. The Most important meal of the day.    –
Other clients express that their morning is often really busy and they simply "have no time". Being a rather busy-body myself, I can fully sympathize with this one. So what do I tell people? I encourage them to prepare breakfast the night before as they would for lunch. HERE is where this recipe comes handy. It's a staple in our home and quickly devoured.
This recipe is a version of oatmeal, but baked. You can prepare it in advance and it will offer you 4-6 servings over the week. You can feel free to munch on it as a bar, or pour warm milk over it. Sometimes I like to throw in nuts, fresh berries, coconut or even a mashed banana to change it up. The ideas are truly endless. If you're making this to serve a large group, you can easily double the recipe and bake into a 13″ x 9″ dish. Store covered in the refrigerator for up to 4-5 days.

Baked Oatmeal with Apples & Cinnamon
Ingredients
1 ½ cups Old Fashioned rolled oats
¼ cup sliced almonds or walnuts
¼ cup dried cranberries (optional: or add in shredded coconut, raisins etc)
1 Apple, chopped
2 tbsp brown sugar
Pinch salt
3 cups milk or milk alternative
2 tsp Ground cinnamon
Instructions
Preheat oven to 350 degrees and grease an 8" (2L) baking dish
In a medium size bowl, combine oats, nuts, cranberries, chopped apple, brown sugar, cinnamon and salt.
Once blended together, pour in milk. Mix well.
Pour contents into the greased pan and bake until oats are softened and milk has absorbed. It usually takes about 45 - 60 minutes.
Serve hot or cold.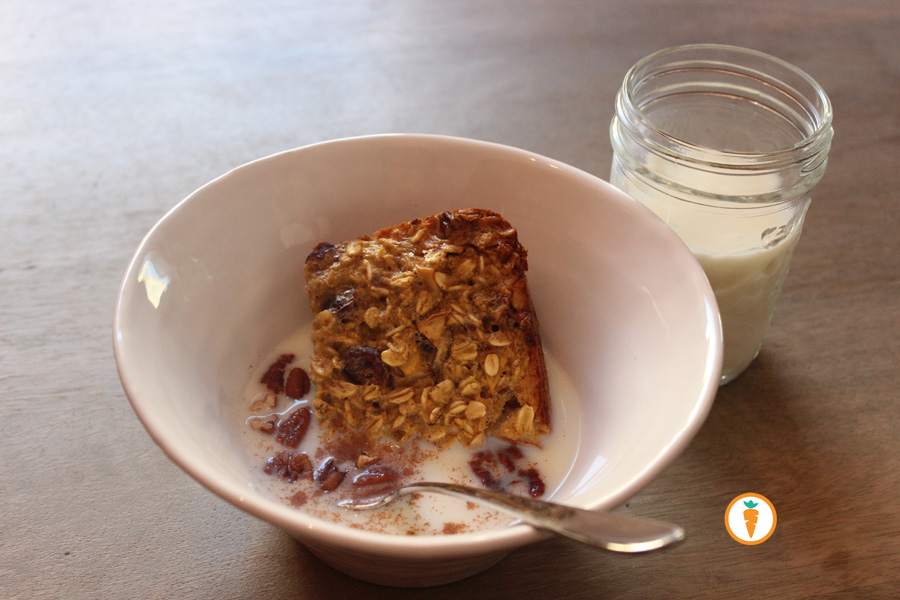 – With Love, Carrots and Cake,