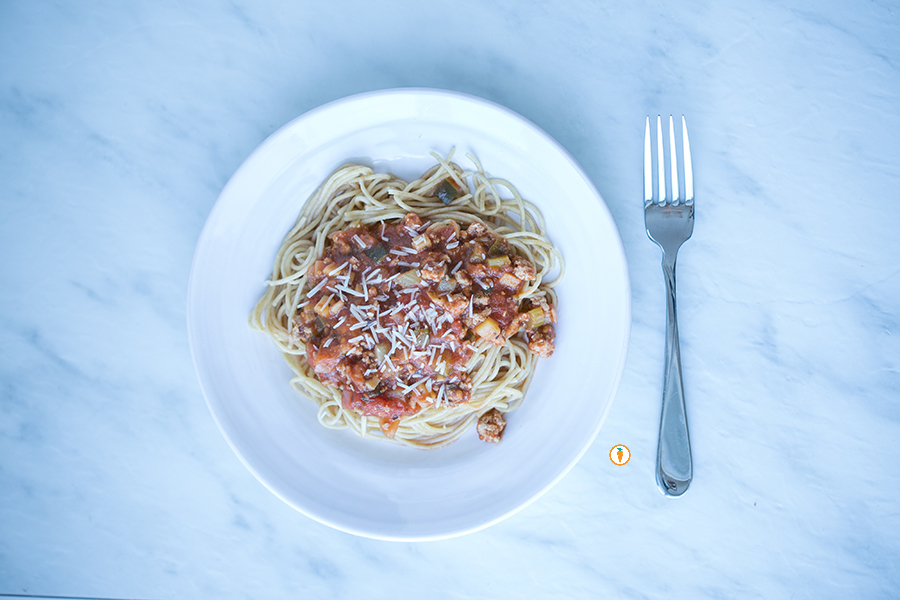 When guests come over for dinner, what's your go-to-recipe? You know, the one that gets the oohs and ahhs. I tend to lean towards Italian cuisine. I mean, WHO DOESN'T LOVE PASTA? Pasta tends to receive a lot of negativity – you know, it's just carbs, right? No way! Pasta is actually very versatile and can be super nutritious. Most enriched varieties come with B vitamins and iron. Not to mention it's hella economical.
What to buy?
When choosing pasta look for something that offers you at least 4 grams of fibre per serving. Next, check out the ingredient list. Go for a pasta that has the word whole grain written as the first ingredient. If you're not quite ready for whole grain pasta (don't worry, I get it) then I recommend starting slowly. Mix in half wholegrain with half regular pasta. Baby steps are all G around here. I tend to enjoy spaghettini as it's slightly thinner.
So we've got the right pasta in the shopping cart. It's also important to pay attention to how you dress your pasta. If you prefer to use a ready-made pasta sauce be weary of the sodium content. This marinara is stuffed full with yummy vegetables, flavourful spices and for protein I opted to use a lean protein – ground turkey. You could also use lean ground beef or soy protein.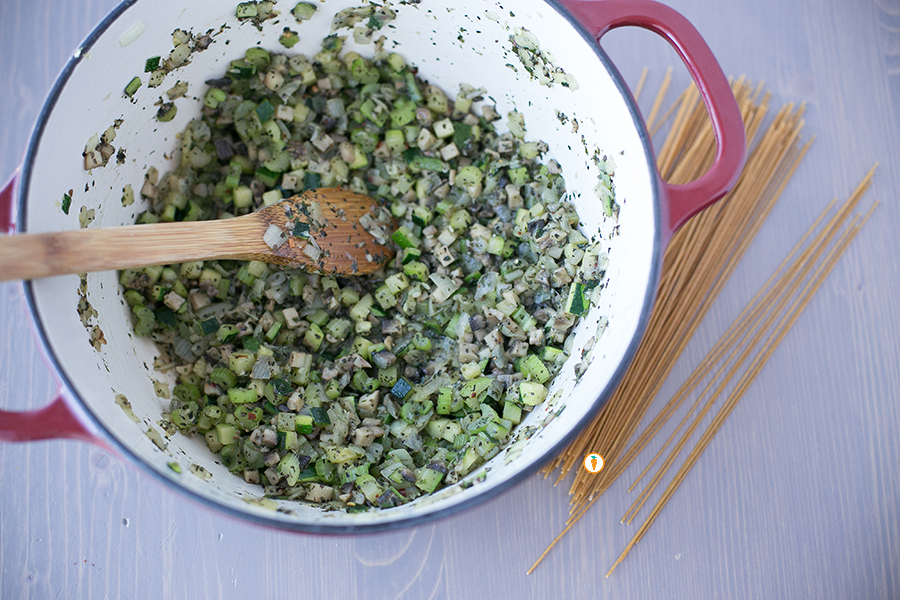 Okay. Rant over. Recipe below!

Hearty Meat Marinara
Ingredients
1½ tbsp canola oil
3 cloves garlic, minced
1 whole yellow onion, diced
1 green pepper, diced
2 stalks celery, diced
1 zucchini, diced (keep the skin on)
Large handful mushrooms, diced
¾ - 1 lb ground meat (lean beef, turkey, chicken)
1 28oz can whole tomatoes
1 28oz can crushed tomatoes
½ cup water or vegetable broth
¼ teaspoon salt
Freshly ground black pepper
1 tsp sugar
1 tbsp basil
1 tbsp oregano
1 tbsp parsley
Instructions
In a large pot add canola oil, onions and garlic. Cook for a few minutes, or until onions are translucent. Add in green pepper, celery, zucchini and mushrooms. Cook for 5-8 minutes until softened over medium heat.
Place cooked veggies on a plate and set aside. In the same pot brown your meat with salt and pepper to taste, about 3 minutes.
Pour in whole tomatoes (mashing them each with your hands), crushed tomatoes, and water/broth.
Add salt, black pepper, sugar, basil, oregano and parsley. Add in plated veggies. Stir to combine and simmer over very low heat for 30 minutes.
If you would like, feel free to blend the sauce for a desired consistency using an emersion blender.
Voila!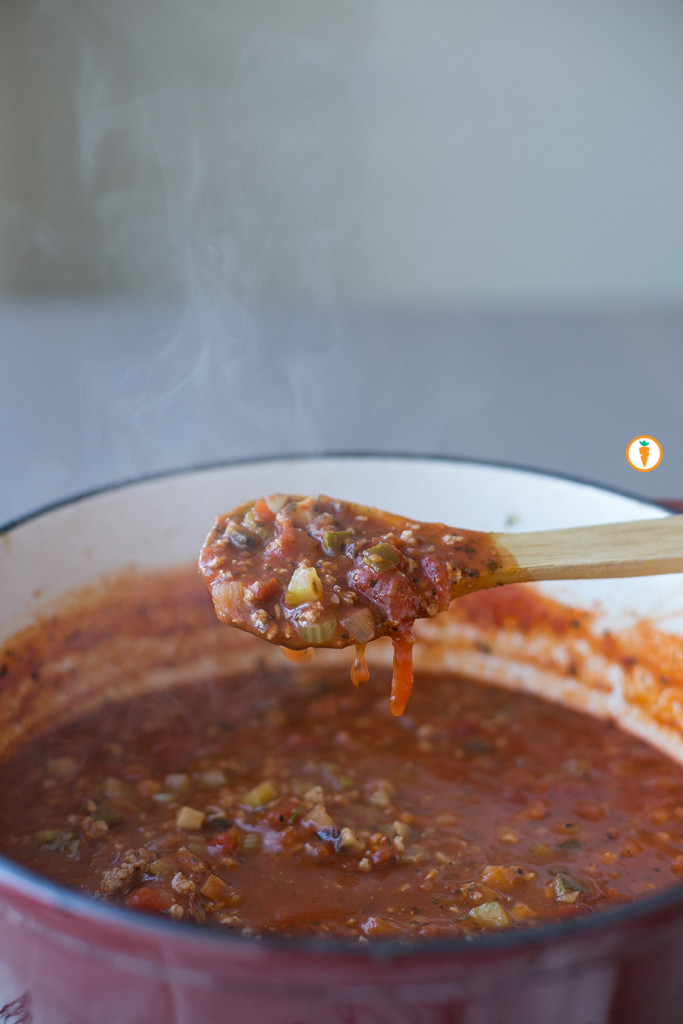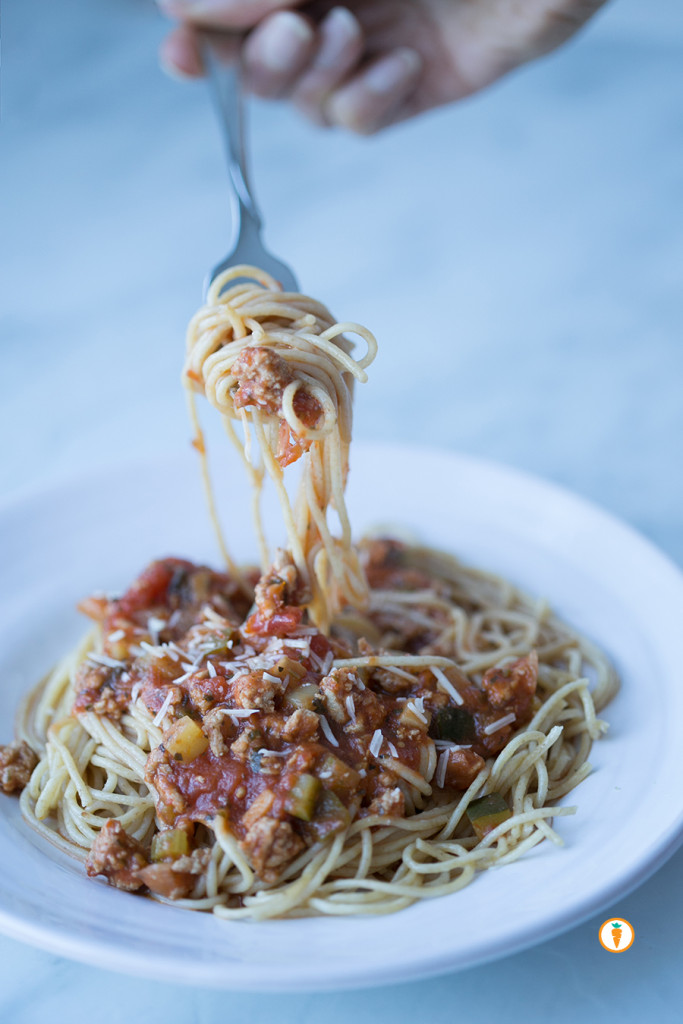 Food photography done by the talented Ceone Dyck. To learn more about Ceone click here or follow her on Facebook.
Don't forget to follow Carrots and Cake on Instagram to see tiny square snap shots of my life.
                 – With Love, Carrots and Cake,