It's the holiday season. In a short few weeks Santa will be here, the turkey will be roasting, lights will be glimmering and families will be celebrating. How do you celebrate with food during this season? I have fond memories of watching the women in my family cook stacks and stacks of fresh roti. All of us kids would line up for the buffet of fresh Indian cuisine. Nope, no turkey for us. But I didn't mind this so much; my mom was creating her own tradition in the way that she knew best.
Now here I am. In my twenty something, married and trying to create my own traditions. On the morning of Boxing Day, my friends and I gather around for brunch. These are special moments as so many of us live in other provinces and even in other countries. It is expected that each guest bring something. What do I bring? My infamous Breakfast Muffins pictured above (and below).
While you're in the kitchen prepping to bake yummy goodies for the holiday season, try your hand at these muffins. You'll love them. I promise.
These muffins are nothing short of being healthy and oh so nutritious. Loaded with fibre, bursts of flavor and great texture, they are seriously to die for. Now really, you don't HAVE to eat them only at breakfast time. They make for a great dessert and a yummy snack too. Oh, did I mention they are toddler approved? My little niece loves them.

Nita's Breakfast Muffin
Ingredients
1 ½ cups whole wheat flour
1 cup quick oats
¾ cup brown sugar
2 tsp baking soda
1 tsp baking powder
1 tsp nutmeg
1 tsp cinnamon
⅓ tsp salt
2 cups grated carrot (about two medium sized carrots)
1 large ripe banana, mashed
½ cup dried cranberries
½ cup chopped walnuts
½ cup unsweetened coconut, shredded
2 eggs
2 tbsp canola oil
¾ cup apple sauce
2 tsp vanilla
½ cup milk
Instructions
Preheat oven to 350 degrees.
Coat a 12-cup muffin tin with cooking spray or liners.
In a large bowl, whisk together the flour, oats, brown sugar, baking soda, baking powder, cinnamon, nutmeg, salt, dried cranberries, walnuts and coconut.
In a bowl, blend the banana, carrots, eggs, canola oil, applesauce, vanilla and milk.
Add wet ingredients to dry and mix until just combined. Divide among muffin tins. I always like to load mine up to the top for bigger muffins.
Bake until toothpick comes out clean—approx 23 – 25 minutes. Cool, and enjoy!
This recipe was adapted from a variety of "Morning Glory" recipes I came across. With my own personal substitutions and additions, this is what I came up with! If you like this muffin, you'll probably also love my
Pumpkin Pecan Muffins
.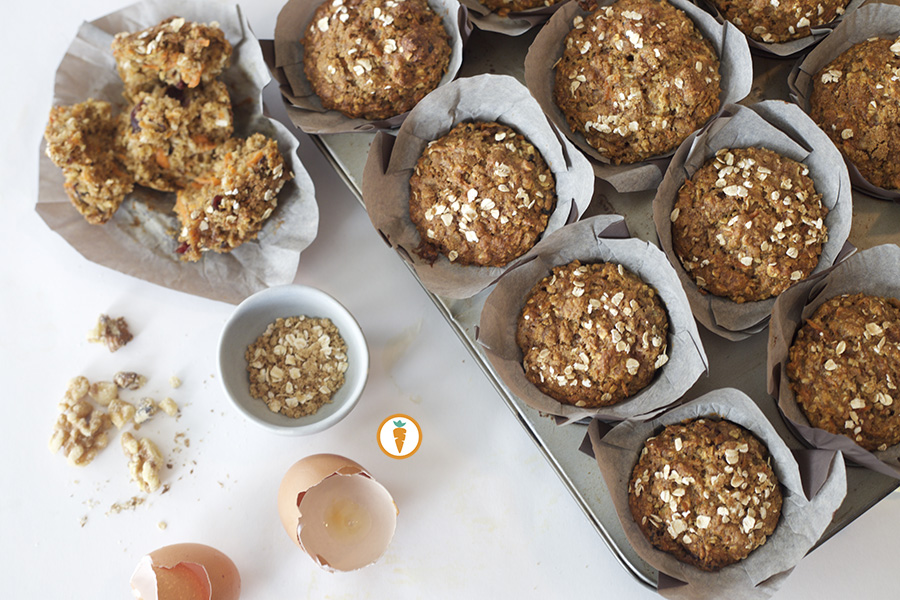 – With Love, Carrots and Cake,