Butternut squash and chickpeas.
The best of both worlds when this subtle squash melds with chickpeas in this non-traditional take on hummus. I've tried few different variations of hummus including my Jalapeno Spiced Hummus and other store bought variations like Sabra's Supremely Spicy Hummus (c'mon, I'm Indian aka I live for spice). But after seeing the Minimalist Baker's version of Butternut Squash Hummus I just had to try it out. I didn't have all of the same ingredients on hand so this is my adaptation. Seriously, I can never follow a recipe (jeeze).
What I love about this version of hummus is the thick consistency. It's perfect as a dip but really I think it was destined to be used as a spread on wraps and sandwiches. Don't you hate it when your sandwich spread leaves your bread soggy? Yuck! Fear not. This wont happen with this Roasted Butternut Squash hummus.
I have two other tid-bits to share about the recipe.
First, the garlic. ROAST THE GARLIC PEOPLE. The yield is a deep flavor that isn't as overpowering as raw garlic tends to be. I know my bff Christine aka nurse-turned-photographer LOVED the taste of garlic. She's actually rationing her hummus to keep it all week long. Yeah, that good.
Secondly, the hemp hearts (shout out to Just Hemp Foods) adds a lovely nuttiness to the entire product. Not to mention, these tiny but oober-powerful seeds help crank up the protein content and offer anti-inflammatory fats that we could all use a little more of.
And HELLO to all of you mama's who try to get your little peeps to eat more veggies. They will never know there is squash in this hummus (sneaky, sneaky). But, that doesn't mean you can't tell them what's in it! We can really only hide veggies from our kids for so long; educate your children about the meals you're creating and they'll be encouraged to try them!
Okay, okay. The recipe: 
Ingredients
1 cup butternut squash, cubed
5 cloves garlic, whole
1 tbsp dried parsley
1 lemon, juiced
1 15oz can chickpeas, rinsed + drained
⅓ cup tahini
¼ cup hemp heart
5 Tbsp extra virgin olive oil
Sea salt and black pepper, to taste
½ tsp ground cumin
Instructions
Preheat oven to 350 degrees F and position a rack in the middle of the oven.
Toss butternut squash, 5 garlic cloves and parsley with a drizzle of olive oil on a baking sheet.
Roast squash for 20 - 30 minutes minutes, or until all squash is fork tender and the garlic is golden brown. I allowed some of my squash to really crispen up. Let cool 5 minutes.
In your food processor or blender combine: squash, garlic, lemon juice, chickpeas, tahini, hemp hearts, olive oil, salt, pepper and cumin.
Blend the mixture until creamy and smooth, scraping down sides as needed and adding more olive oil or a touch of water to achieve desired consistency.
Serve immediately or chill in your fridge.

Now what are you gonna do with all that hummus? The options are endless: plop some onto of a salad, use it as a spread on sandwiches and wraps, eat it by the spoonful, dunk veggies into it or use it as a dip to compliment a cheese board. Kinda like I did over here for an upcoming collaboration with Bothwell Cheese (stay tuned). Drooooolllll.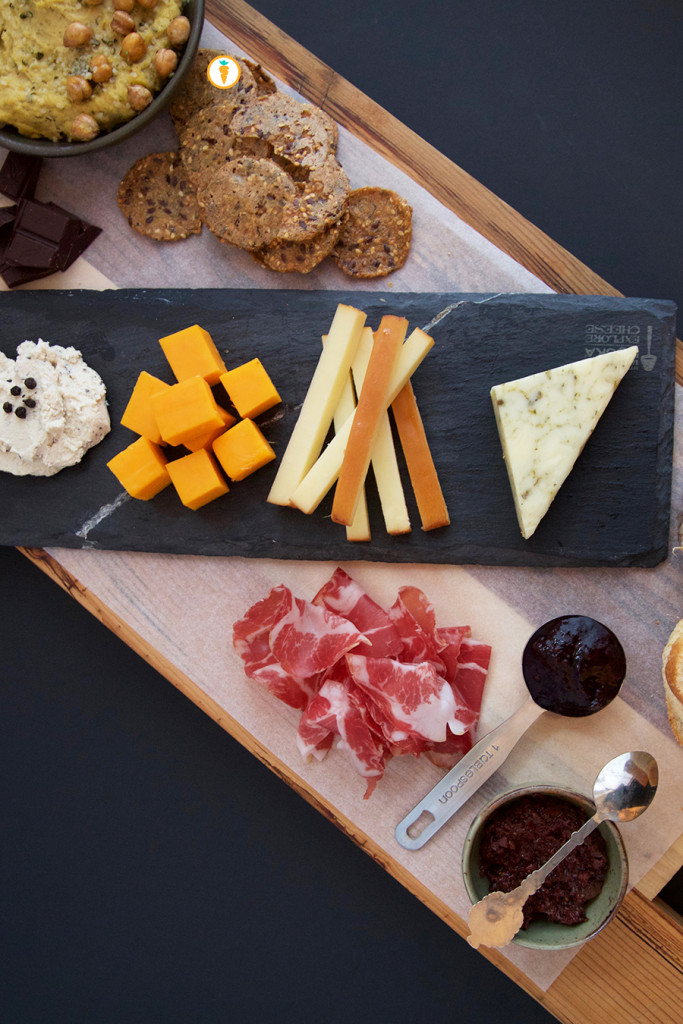 If you're need of more legume based recipes, check out:
                 – With Love, Carrots and Cake,