It's that time of year: the sun is shining, birds are singing, winter jackets are swapped for tank-tops, and parks are filled with ambitious vitamin D deprived Manitobans intent on soaking up every single bit of fresh summer air they can. It's the absolute best time for outdoor workouts, trips to the zoo, or a hike with friends! But before you grab your runners, rollerblades, or dumbbells, let's talk about how you can fuel your body to get the most out of your physical activity.
What should I eat before my activity?
The best way to ensure that you'll be properly fueled for your next sweat session is to eat balanced meals from all four food groups every 3 – 4 hours beginning with a protein and fiber-rich breakfast (like a delicious bowl of overnight oats…see photo below *drool*).
What you choose to eat should ideally be determined by the timing of your workout. For example, if you had a meal at 1:00pm and plan to work out at 3:00pm, there may not be a need for a snack. If there is a longer gap you could consider the following:
2-3 hours prior to exercising, eat something that is sort of like a small meal, aiming for three food groups, and going easy on the fibre and fat (both are known to slow down digestion):
Chicken breast, cucumbers with sweet potato
Bowl of cereal with a small handful of pumpkin seeds and skim milk
A large salad with legumes (chickpeas, beans, lentils) and quinoa
½  – 1 hour prior to exercising, focus primarily on carbohydrates – these foods are less likely to cause discomfort during your gym sesh and will give you some quick energy:
Yogurt
A medium banana
Unsweetened applesauce
Rice cakes
What should I eat after my activity?
We offered you up some suggestions to improve your pre-workout eats. And now, we want to share tips and tricks to ensure your post-workout meal is on point. Why do we care? Because, it's important to refuel tired muscles. Much like your pre-workout snack, a blend of protein (approximately 15 – 25 grams) and carbohydrates will be the perfect combination to aid in the recovery process along with a ton of water. Protein is essential in building and maintaining muscle and supporting muscle recovery after exercise.  Research tells us that ingesting protein shortly after intense exercise can help build muscle and repair muscle damage. And of course, water is important to replace what you may have lost via sweat and prevent dehydration.
Similar to your pre-workout nutrition, timing is just as important for post-workout meals. You've got about a one-hour window to replenish your body and offer it some fuel. For most folks who exercise in the evening, a balanced dinner after activity may be sufficient. But if you just need something to tie you over before your next meal consider munching on:
A handful of power trail mix (pumpkin seeds, almonds, walnuts, and dried blueberries and goji berries) with Greek yogurt
1 – 2 slices of sprouted wheat toast with a natural nut butter and a glass of milk
A few energy date balls with a glass of milk
¾ cup edamame beans with a light olive oil dressing
Egg salad filing on top of a pice of toast
1 serving of whey isolate within a fruit smoothie
Like what you see on this list above? Learn more about pre- and post-workout nutrition here. And oh! There are some recipe suggestions too – you know I'm a suck for recipes!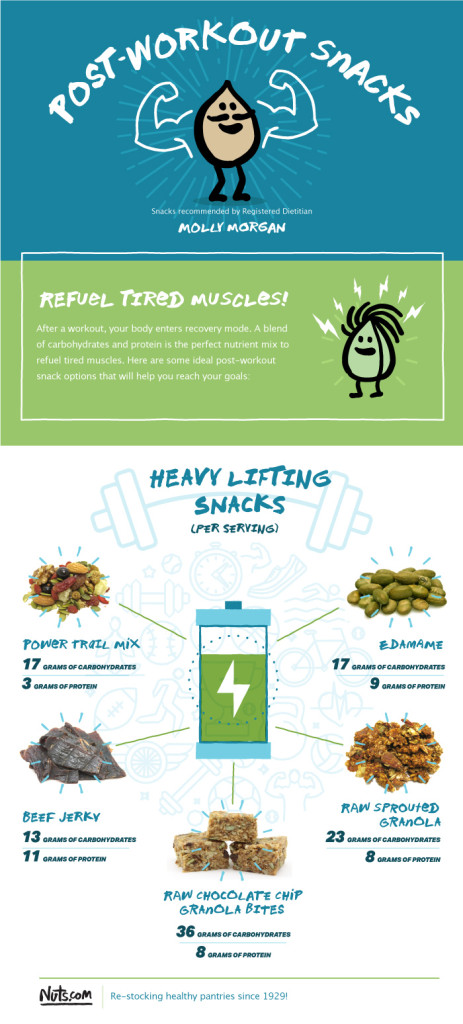 If you want to brush up on what your personal exercise nutrition should or could look like, contact a Registered Dietitian. We're the trusted source for nutrition information. If you have a specific training need, let me know and I can connect you to a reputable colleague who knows the ins and outs of exercise nutrition!
Food photography and blog post written/captured by a talented student volunteer, 

Ceone Dyck.

 Ceone is a graduate of Human Nutritional Sciences. To learn more about Ceone 

click here

 

or follow her on 

Facebook

.
Please note this is not a sponsored post. 
Don't forget to follow Carrots and Cake on Instagram to see tiny square snap shots of my life.
                 – With Love, Carrots and Cake,