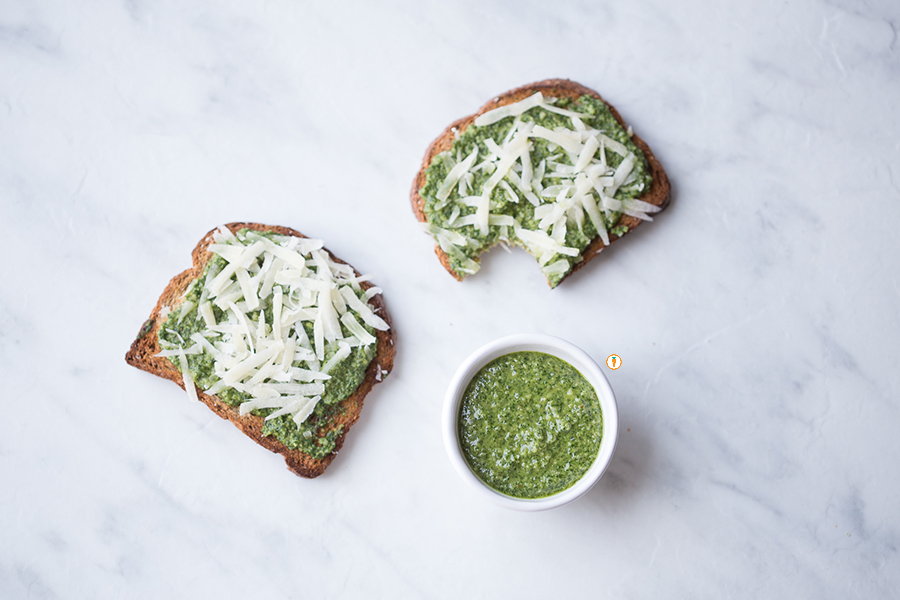 I love me some pesto. Do you? I only began experimenting with this sauce a few years ago and now it's a pantry staple. Better yet, I've even ventured into making my own version of pesto. I was inspired to use kale in this recipe by my summer CSA. We've been getting an abundance of kale and I've been experimenting with unique ways to use up this nutrient-loaded green.
Most pesto recipes call for basil. I opted not to use basil primarily because in the fall/winter months it's actually quite pricey (at least here in Winnipeg) and sometimes I find myself visiting 2 – 3 grocery stores only to not find any! So instead I use parsley. Problem solved.
There's also a TON of ways you can use up pesto. Here's a few suggestions to inspire you:
Use it as marinade for your white fish or chicken
Place it on top of toast to change up your breakfast game, top with a poached egg
Toss it in pasta (hot or cold)
Use pesto instead of pizza sauce on your crust (my favvv)
Use pesto for this quinoa salad recipe
Flavor turkey meatballs with with pesto
Add small dollops to crostinis and top with cherry tomatoes for a fun appie
Make a gourmet grilled cheese sandwich with pesto and mozzarella
Marinade veggies like tomato, zucchini and muchrooms in pesto and grill
Or, eat it by the spoonful
There you have it! Ten ways you can enjoy this pesto! 
Why is this pesto a great choice?
It's loaded with anti-inflammatory olive oil
Helps you meet your recommended intake for greens
Walnuts offer up omega-3, hello heart health!
There's cheese in it
Mic drop, enough said!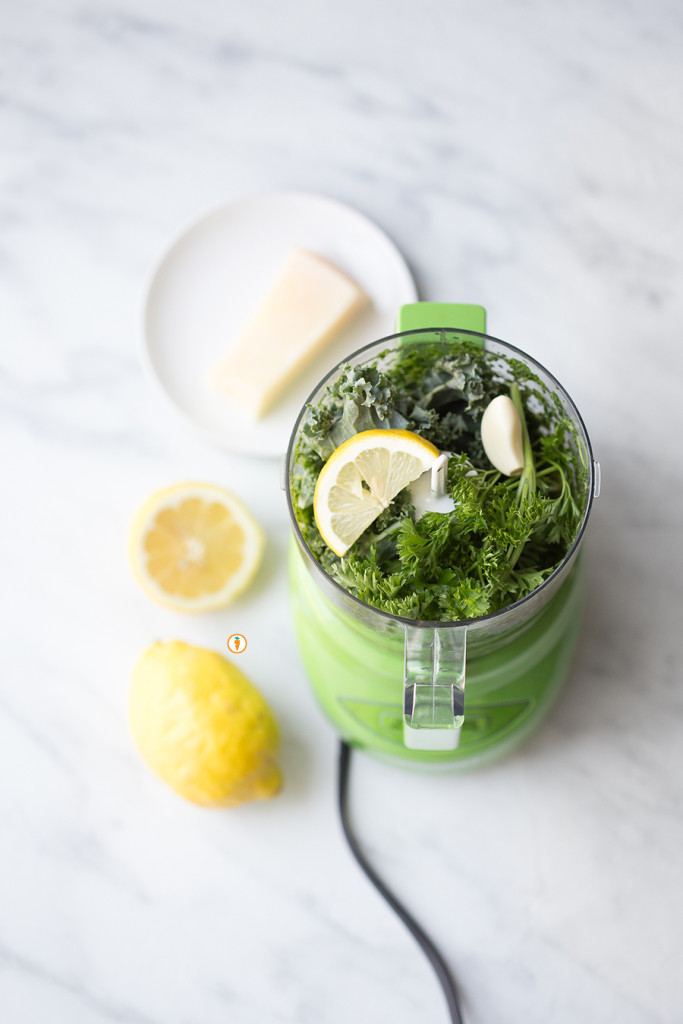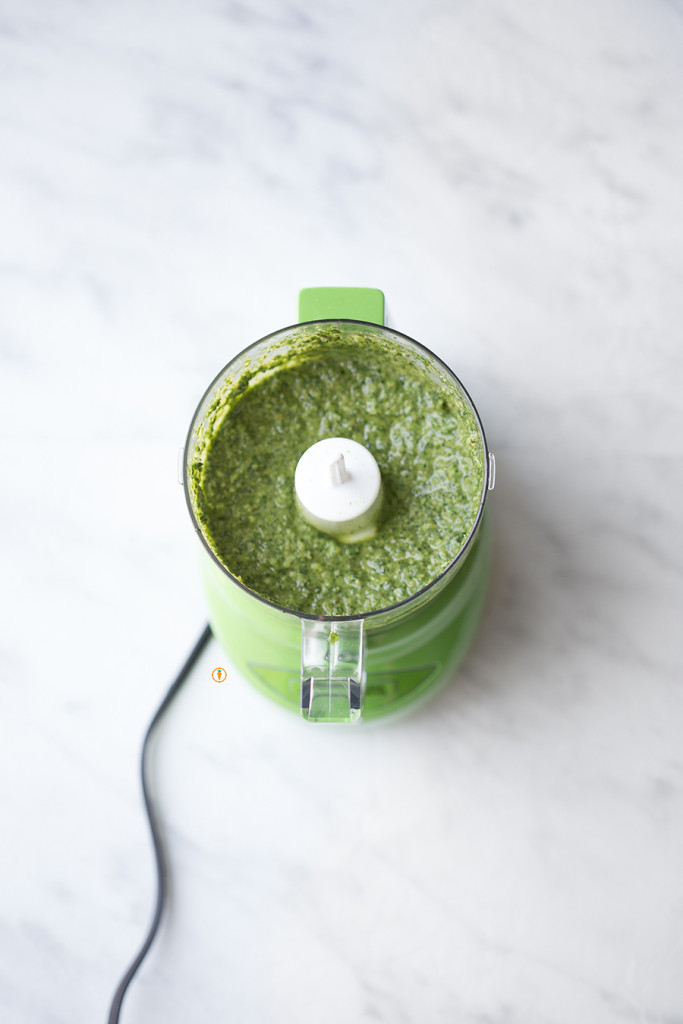 Okay, recipe below.

Easy Kale and Parsley Pesto
Ingredients
¼ cup walnuts, toasted (or preferred nut)
1½ cups torn kale, stem removed
½ cup curly parsley, roughly chopped
¼ cup cubed or grated parmesan
½ cup olive oil
1 clove garlic
juice of one lemon
Instructions
To toast walnuts, warm a non-stick skillet over medium heat. Add walnuts and lightly toast for about 8 - 10 minutes or until fragrant. Be careful! You don't want them to burn.
In a small food processor of blender add walnuts and remaining ingredients. Blend well.
Taste. Add salt, pepper or more lemon juice as needed. If you find your pesto too runny, you can add another ¼ cup of walnuts.
Store in an air tight container in the fridge for up to one week or freeze!.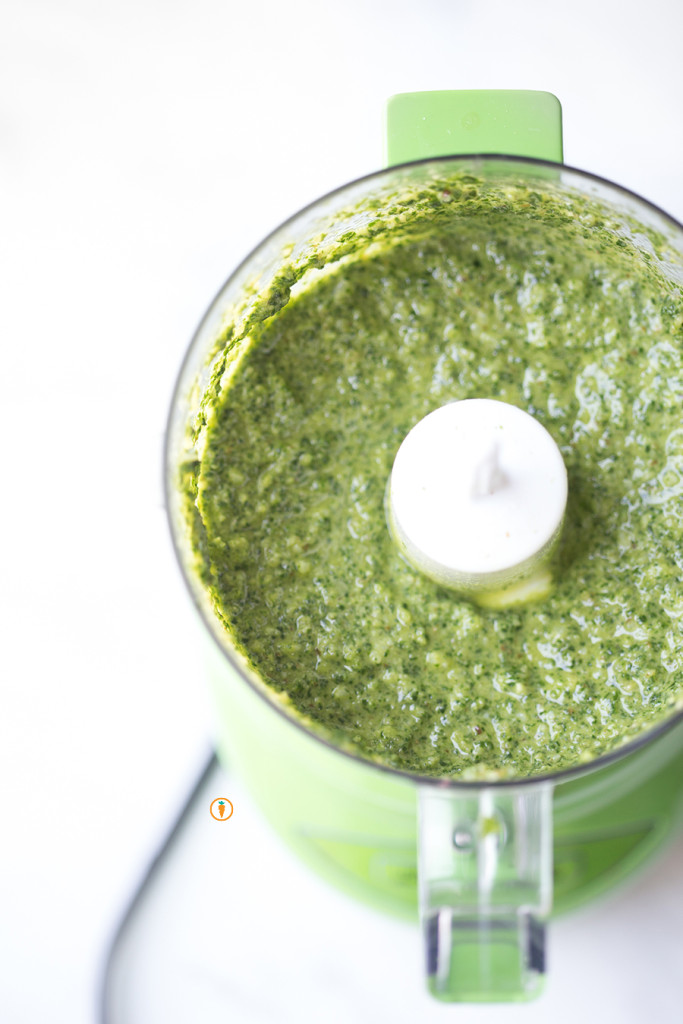 Food photography done by the talented Ceone Dyck. To learn more about Ceone click here

 

or follow her on Facebook.
Don't forget to follow Carrots and Cake on Instagram to see tiny square snap shots of my life.
                 – With Love, Carrots and Cake,