I'm all about making sure we're eating a variety of whole grains in this house. Sometimes without knowing it, we get stuck in a rut and stick to one primary grain (wheat, and by the way: there is nothing wrong with that). Consequently, we don't get a chance to enjoy the wonder and benefits other grains have to offer us.
Oats. I LOVE OATS. a) they are hella cheap  b) they are super versatile  c) they are easy to cook  d) you can enjoy them sweet, savory, warm or cold!  e) for folks who are sensitive to gluten, they can enjoy certified gluten free oats. What more do ya want from a grain?
Want the nutrition jiffy on oats?
They are whole grain! Health Canada recommends that 50% of your grains should be whole grain; we know people who eat whole grains have a lower risk of heart disease, stroke, diabetes, cancer and digestive disorders.
They are rich in soluble fibre; this type of fibre helps improve blood cholesterol and can help manage blood sugar levels too.
A half cup serving (dry, large flake oats) offers up nearly 8 grams of protein.
They are a source of B vitamins, iron and vitamin E.
Why overnight oats?
It's great for people who require a quick grab n' go style breakfast; maybe you're someone who prefers to enjoy breakfast at work or are too busy preparing breakfast for your little ones. This is a great alternative!
Mornings can be rough for some of us so overnight oats take the prep-work out in the morning. You can prepare a few batches to last you throughout the week.
Overnight oats are incredibly versatile. You can change the proportion of milk/yogurt/oats as needed to suit your needs.
In general, you're getting a great source of protein, carbohydrate, fat if you add some nuts/seeds and fruit. These components make it a complete and balanced meal.
It's a nice change from your typical bowl of hot oatmeal.
Variations: 
Top it with my 5 Ingredient Berry Sauce, bananas, shredded coconut, apples, canned peaches or any other favorite fruit.
Switch up the milk from a dairy milk, nut milk or soy milk.
Add nuts and seeds for extra protein such as pumpkin seeds, walnuts, almonds or toasted hazelnuts. My friend Chantal of Nutty for Nutrition loves adding chia seed to her concoction, just make sure add extra moisture if you go this route because chia seeds love to suck up liquid!
Feel free to use your favorite sweetener such as brown sugar, maple syrup, honey or stevia if that's what you fancy.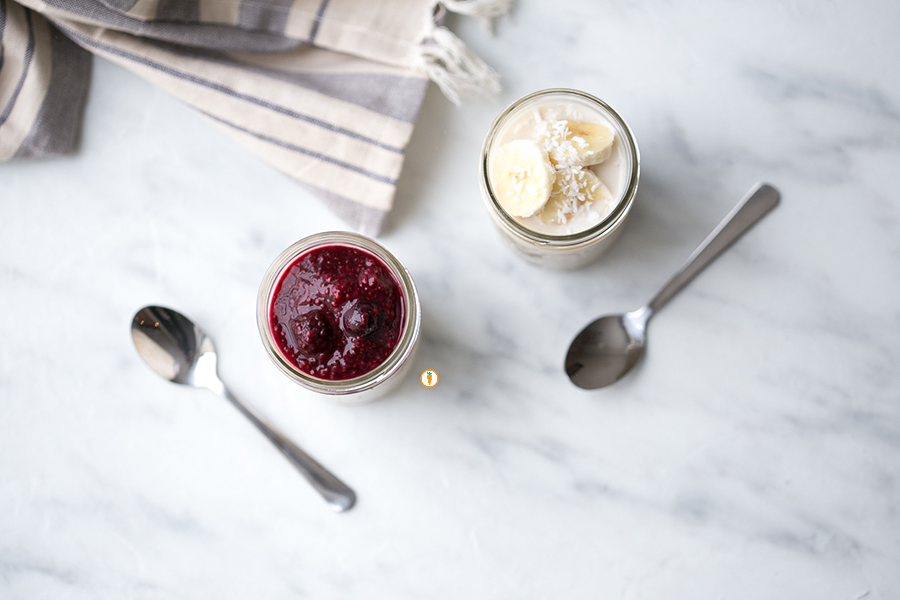 Overnight Oats
Ingredients
½ cup rolled oats (large flake)
½ cup milk
¼ - ⅓ cup vanilla Greek yogurt
2 tsp flax seed
Pinch of cinnamon
Drizzle of maple syrup, honey or your preferred sweetener
Fruit
Instructions
Place oats, milk, yogurt, flax seed, cinnamon and sweetener into a Tupperware, mason jar or cereal bowl. Stir until smooth.
Top with your choice of fruit. Leave overnight.
The next day, enjoy it cold or feel free to nuke it in the microwave for 20 seconds! If it's a little too thick for you add a dash of milk or water until you've got your desired consistency.
Food photography done by the talented Ceone Dyck. To learn more about Ceone click here

 

or follow her on Facebook.
Don't forget to follow Carrots and Cake on Instagram to see tiny square snap shots of my life.
                 – With Love, Carrots and Cake,