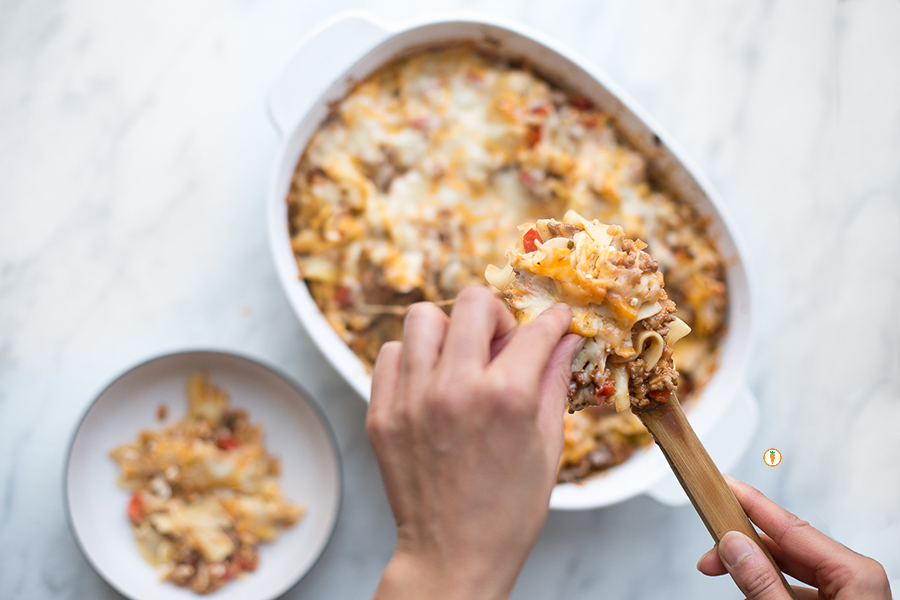 Oh haaaayyyy. Yes, that's a casserole dish full of carbs and yes, I am a Registered Dietitian who developed this recipe. I've said it before: don't be afraid of carbohydrates! This recipe features a classic egg noodle. Because it's difficult to trace down a wholewheat version of this popular noodle I decided to embrace it's "white version". Knowing it would be lower in fibre, I quickly decided that I could:
Add fibre to the overall dish by loading up with veggies, and,
Add split red lentils to not only boost protein but to also amp up my fibre intake
The result: an all-in-one dish that packs a ton of flavour, lasts for dayssss (*hello freezer*) and can be enjoyed by the entire family. The protein content in here is also one to be admired – cottage cheese is always such an underrated food. But in our house, I can eat a heaping bowl of it as a snack or as part of my breakfast. One cup of this stuff contains about 30 grams of protein. HOLY MOLY!
This is also the type of recipe you can adapt. For example, if mushrooms aren't your jam then add in celery instead! Or if you're craving more bell peppers because they'll be in season soon, then add more! You can't go wrong. Except…if you add zucchini, it will be very liquidy (that's just the nature of zucchini). There is even flexibility in the type of protein you choose. I opted for some local Manitoba Chicken but you could use a lean ground pork or beef if you wanted. Even TVP would work well (although I haven't tried that).
Let me tease you with one more photo before sharing the recipe…(and yes, that's Bothwell Cheese for the win, duh).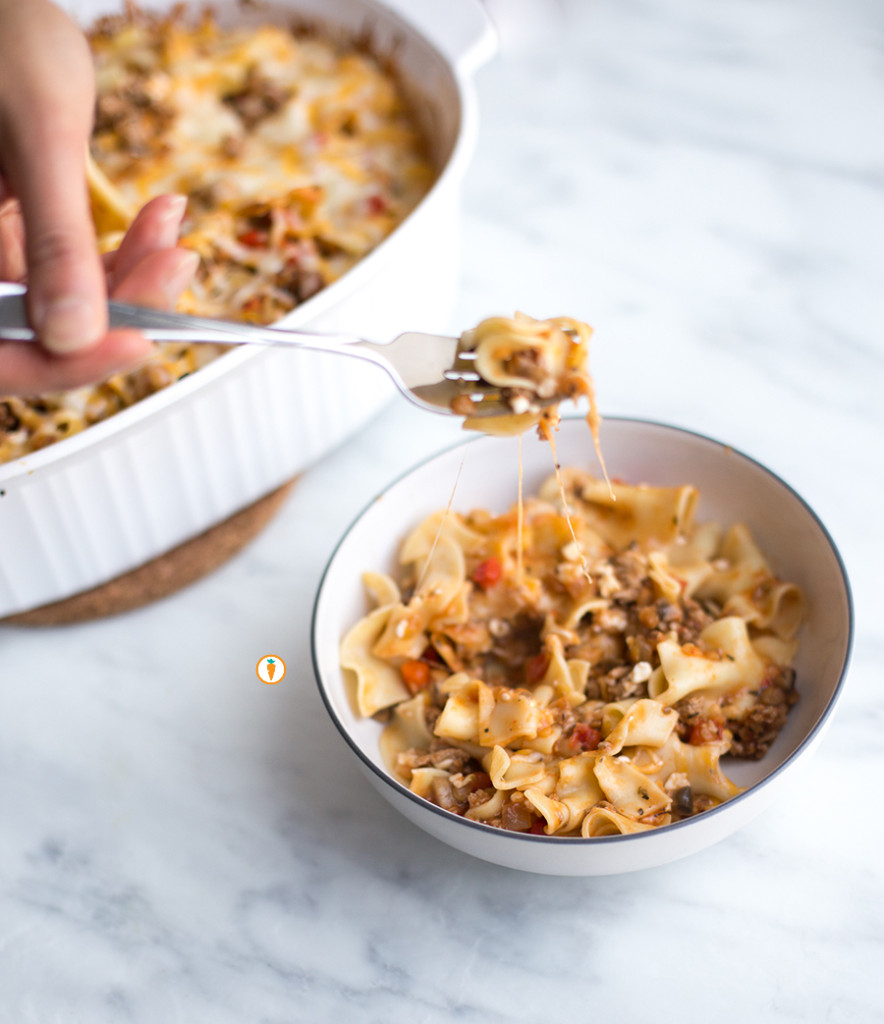 Egg Noodle Bake
Ingredients
1 tbsp canola oil
2 lb ground meat (lean beef, turkey or chicken)
1 large onion, diced
3 cloves garlic, minced
3 cups mushroom, diced
1 red pepper, diced
½ cup red split lentils
1 15oz can tomato sauce
1 cup vegetable broth
1 tbsp dried oregano
1 tbsp dried parsley
1 tsp salt
1 tsp black pepper
1½ cup cottage cheese
¾ cup mozzarella cheese, grated
1 packgage egg noodles (about 8oz)
Instructions
Preheat oven to 350 degrees.
Cook egg noodles until al dente. Drain and set aside.
Brown your selected meat in a large skillet. Drain fat and then set aside on a plate.
Heat 1 tbsp canola oil in the same skillet and sauté onions. Once onions are slightly translucent, add in mushrooms, red pepper and garlic. Continue to cook over medium heat until vegetables are tender.
Then add in meat, tomato sauce, broth and red split lentils. Add in your spices: salt, pepper, parsley and oregano. Feel free to add in any other spices you'd like such as red chilli flakes for some heat!
Let this mixture simmer for about 15 minutes over low heat, or until red lentils are cooked through.
Meanwhile, place your drained egg noodles into a large casserole dish. Mix in cottage cheese.
Top noodles with the meat and vegetable mixture and mix well to ensure the noodles are well coated.
Top with grated cheese. Bake for 20 minutes or until cheese is melted and bubbly.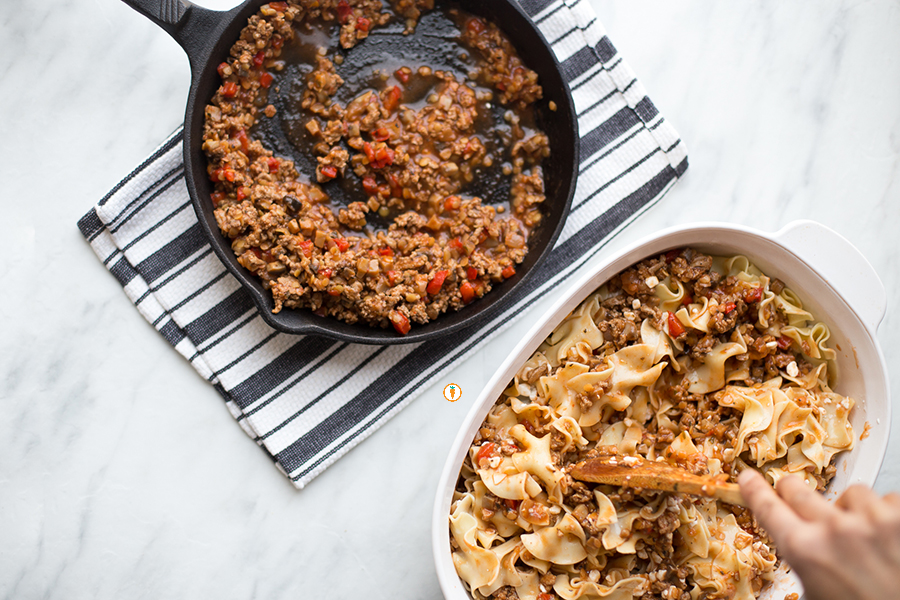 Food photography done by the talented Ceone Dyck. To learn more about Ceone click here

 

or follow her on Facebook.
Don't forget to follow Carrots and Cake on Instagram to see tiny square snap shots of my life.
                 – With Love, Carrots and Cake,