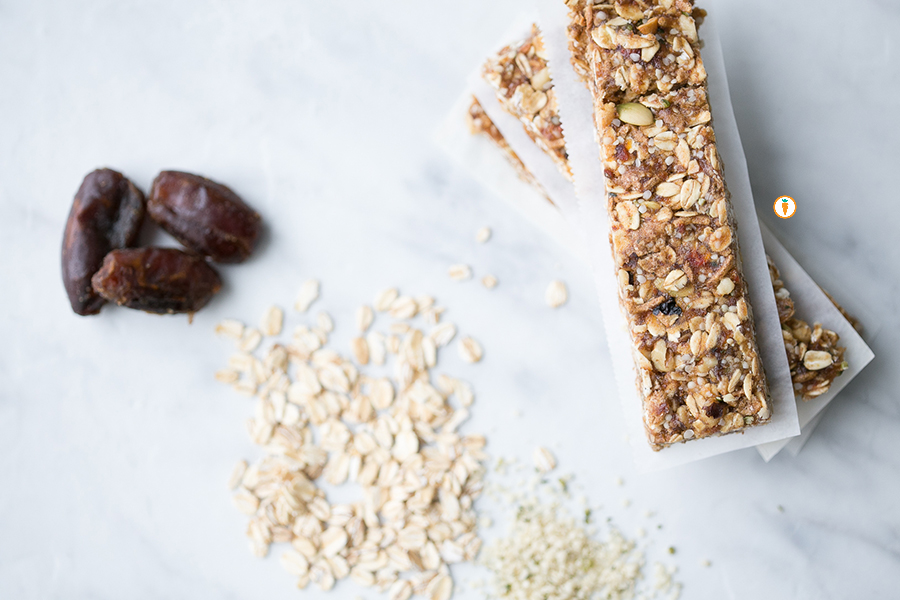 I love a good granola bar. It's basically like having portable nutrition in your hand! Mind you, a good quality product can often be hard to spot. Most large-chain grocers have entire aisles dedicated to this iconic food item. The tough part is distinguishing which one truly is a granola bar versus which one is…well..basically a chocolate bar.
Tips to sourcing a quality granola bar:
When I'm on the hunt for a bar I try to look for something that has less than 8 – 9 grams of sugar and offers me up at least 3 grams of fibre.
Protein is another POWERHOUSE nutrient that I scout for. If you're looking for a nut-free product, it will be difficult to find a protein bar with more than 2 grams of protein. Otherwise, if nuts are your thang, you'll likely have no trouble finding something that can offer you atleast 4 – 5 grams of protein.
Look at the ingredient list and find something that is 100% whole grain.
Avoid granola bars that are chocolate or yogurt covered. These bars can have upwards of 3 teaspoons of sugar in a small serving.
Or HAYYYYYY – how about making your own?
When I have a bit of extra time on my hands, I take pleasure in being able to make my own granola bars that I can snack on. The ingredients in this recipe (adapted from Cookspiration) include all the foods I enjoy eating as snacks: dates, walnuts, pumpkin seeds and hemp hearts are the super heroes behind this bar. Seriously, you'll feel so good after making them, eating them…and maybe even sharing them. You'll notice – the recipe doesn't call for any refined sugar. The sweetness is brought to you naturally from the dates and honey. Don't cha love nature?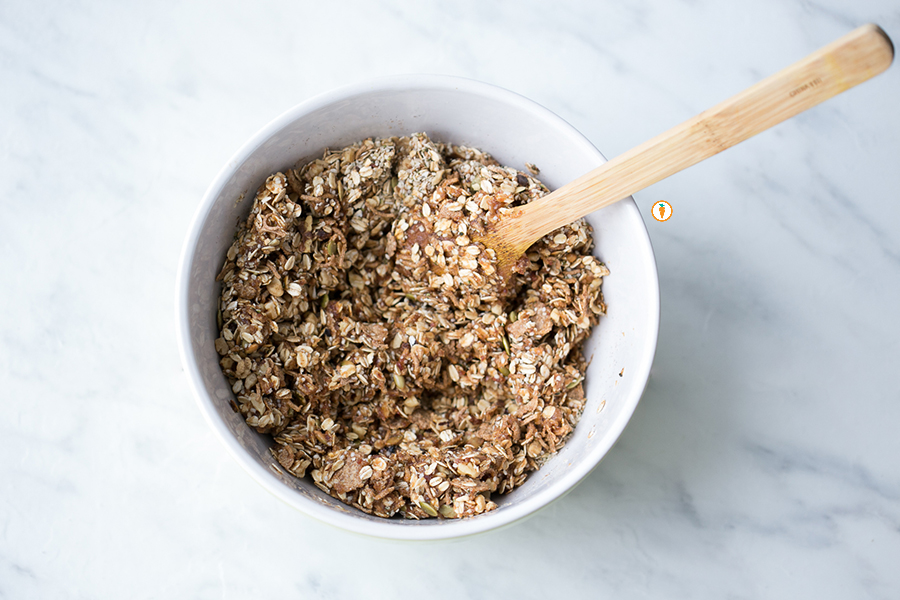 Okay, recipe deets below:
No Bake Granola Bar
Ingredients
1 ½ cup All Bran Flakes cereal (I used PC brand from Superstore)
1 ½ cup large flake oats
½ cup chopped walnuts
¼ cup pumpkin seeds
½ cup hemp hearts
1 cup dates (about 12 - 15 dates)
¼ cup honey or maple syrup for vegan option
⅓ cup almond or peanut-butter
Instructions
In a large nonstick skillet, toast oats, walnuts and pumpkin seeds over medium heat, stirring often for about 8 minutes or until light golden and fragrant. You'll even hear the pumpkin seeds "pop".
Pour this mixture into a large bowl and let cool slightly; stir in bran flakes and hemp hearts.
In the bowl of a food processor, pulse dates until finely chopped. For me, it rolls into one giant blob.
In a small saucepan, heat together honey and almond butter over medium low heat until melted and smooth. Add dates and stir to combine.
Pour into oat mixture and stir together until dates are distributed evenly throughout and oats are coated well.
Press mixture into 23 cm (9 inch) parchment or foil lined baking pan and press to flatten evenly (warning: don't place it on a pan that's too big - you want the mixture to be "tight").
Cover and refrigerate for at least 1 hour or until firm. Cut into bars and wrap individually with plastic wrap and store in refrigerator for up to 1 week or in the freezer for longer.
For more granola bar inspiration, here are a few ideas from my personal food friends:
Food photography done by the talented Ceone Dyck. To learn more about Ceone click here

 

or follow her on Facebook.
Don't forget to follow Carrots and Cake on Instagram to see tiny square snap shots of my life.
                 – With Love, Carrots and Cake,