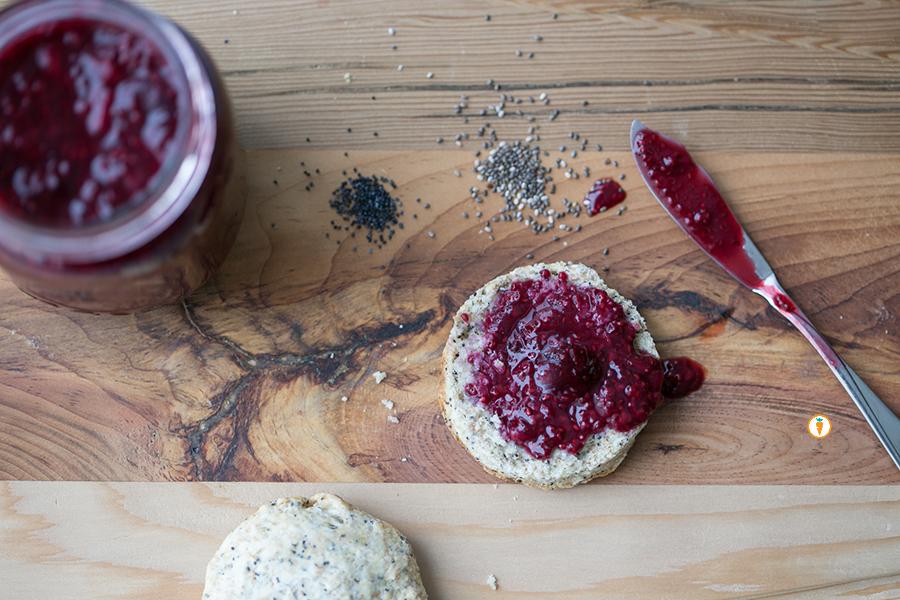 I remember the first time I made a berry sauce. It was for a brunch I was hosting and waffles were on the menu. It was some random recipe that Mr. Google found for me. It called for 1 cup of juice and 1 cup of sugar for only two cups of berries. Jesse whiz, that is A LOT of sugar. What's a Dietitian/Food Nerd to do?
Develop her own recipe! 
I prepare this berry sauce quite regularly for our meal-prep line up. It's extremely low maintenance and the recipe is pretty darn easy to memorize. There are so many uses for this sauce, here's what I've tried so far:
Great in smoothies
Lovely on top of plain yogurt
Fabulous over pancakes or waffles
Yummy on warm or cold oats
Genius as a jam on toast or biscuits
The recipe uses a super cool ingredient that might be new to you. It's chia seeds! You can find these little guys at any bulk store and they can also be spotted in the "health food" aisle of many large-chain stores. Chia seeds harness a lot of nutrition, offering up some omega-3 power, fibre, calcium and a wee-bit of protein too. Chia seeds are crucial for this recipe as they suck up (literally) moisture from the concoction, leaving you with a nice saucy texture. I promise you'll love it.
Recipe taymeee.
5 Ingredient Berry Sauce
Ingredients
3 cups frozen berries, mixed variety
½ cup 100% orange juice or water
2 tbsp maple sryup
1 tsp vanilla
2 tbsp chia seed
Instructions
Place frozen berries into a medium sized pot. Add in orange juice or water.
Turn heat to medium and bring mixture to a gentle simmer. When this happens, using a potato masher muddle the berries to a desired consistency. I prefer to leave mine a little chunky, but to each their own!
Next, add in maple syrup and vanilla. Stir to combine.
Remove pot from heat and add in chia seeds.
Stir and wait about 20 minutes. The mixture will begin to thicken.
Store in a mason jar or tupperware for one week, refrigerated.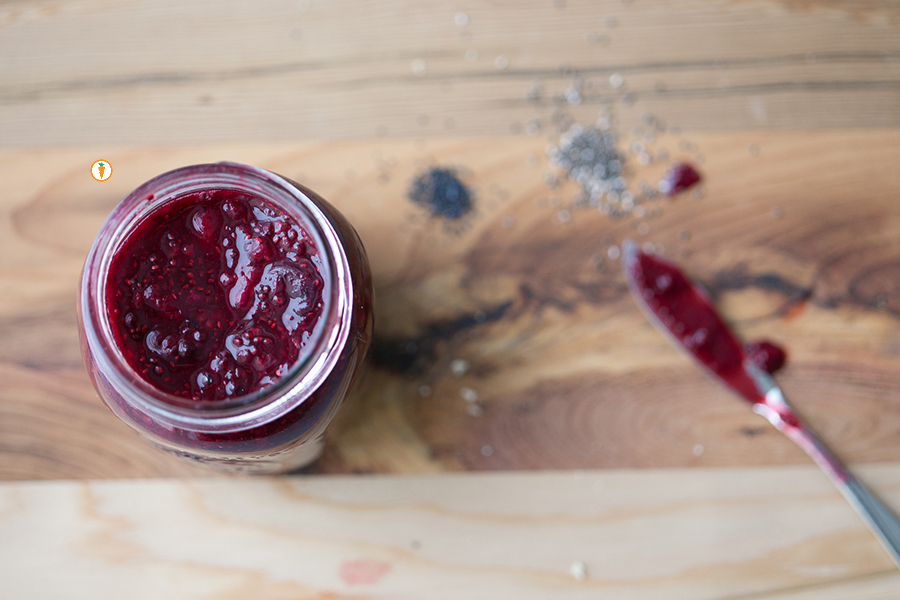 Food photography done by the talented Ceone Dyck. To learn more about Ceone click here or follow her on Facebook.
Don't forget to follow Carrots and Cake on Instagram to see tiny square snap shots of my life.
                 – With Love, Carrots and Cake,