When the hubs tells me that the boys are coming over for dinner, I can always turn to this no-fail recipe! Stir up the dressing, throw in the chicken and let the slow cooker do its thing. Now that's my kinda meal. But beyond the simplicity in preparing this dish, it's actually insanely delicious. I was inspired by a recipe posted by fellow blogger, Foodie with Family. I adapted the recipe to suit our taste buds and we've never looked back.

Honey Ginger Chicken - Slow Cooker Friendly
Ingredients
4lb boneless skinless chicken thighs (approx 16 – 18 thighs, trim the fat)
Black pepper
½ cup honey
½ cup sodium reduced soy sauce
½ cup minced onion
¼ cup ketchup
1 tablespoon sesame oil
2 tablespoon minced ginger
1 teaspoon crushed red pepper flakes
4 teaspoons cornstarch
Instructions
Very lightly season the chicken thighs with pepper and place them in the slow cooker.
Whisk the honey, soy sauce, onion, ketchup, sesame oil, ginger and pepper flakes together in a mixing bowl and pour over the chicken thighs. Cover the slow cooker and cook on low for 4 hours, or until the chicken is tender and cooked through.
Use tongs or a slotted spoon to transfer the chicken to a rimmed plate or bowl and cover lightly with foil, leaving the pan juices in the slow cooker.
Stir the cornstarch into the water with a fork or small whisk until dissolved. Whisk the mixture into the pan juices in the slow cooker. Re-cover the slow-cooker and turn the heat to high. Let it cook and thicken for 15 minutes. (Note: This step is optional and most desired for a thicker sauce).
Carefully transfer the chicken back into the slow-cooker.
Garnish with sesame seeds and cilantro. Serve!
This chicken entree pairs nicely with quinoa or even on a bed of rice. As far as veg, I like to enjoy this recipe with green beans or stir fried vegetables. Don't forget to top with cilantro or toasted sesame seeds. Oh
and
it's the kind of recipe that tastes better the next day.  
L O V E.
Let me know how you'd change up the recipe, and don't forget to leave a comment. Happy long weekend!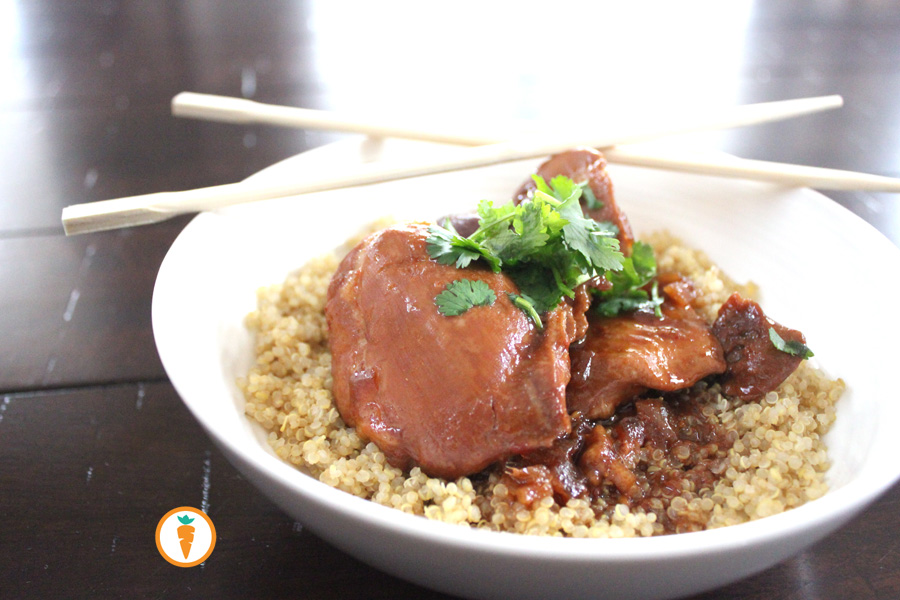 – With Love, Carrots and Cake,