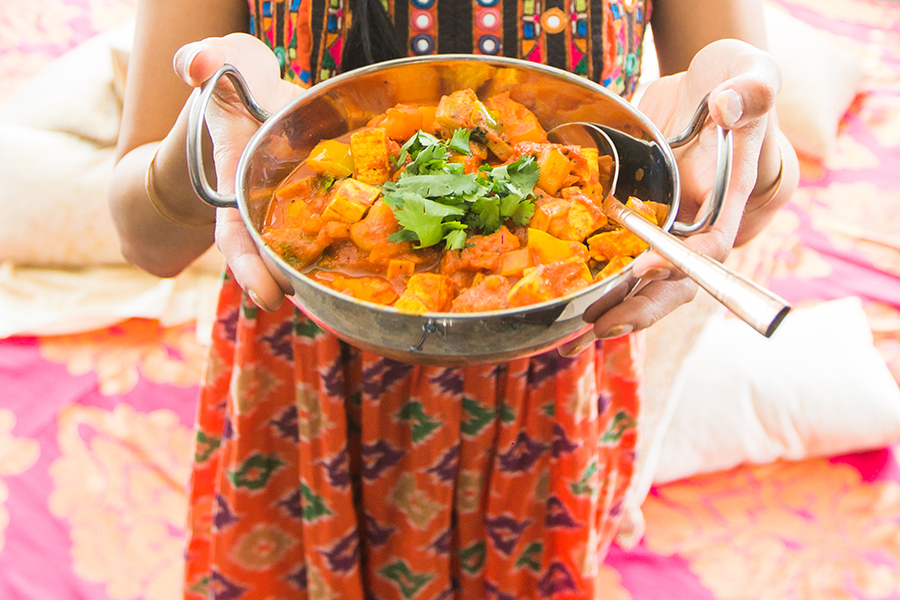 Hello! My oh my, it has been some time since my last post (insert *nervous laughter*) but that truly goes to show how ridiculously-out-of-control and crazy-busy this past summer was for myself and my family. Early on I had a chance to travel to the USA (Vegas, New York and Washington) and then my husband and I were knee deep moving into our brand, spankin' new home. The boxes are unpacked but I'm left to slowly turn this sterile house into something that can feel more like home. 
To kick off my return to "the blog" I'm sharing a meatless recipe that features tofu—a pressed soy product loaded with fibre, anti-inflammatory isoflavones, healthy fats and lean protein. All good things. Tofu is a product that I often use in Indian cuisine to replace paneer (a traditional cheese). This is especially helpful for when I'm trying to bump up the protein content of my meal. If you're new to tofu you might be scared but I'm here to tell you shouldn't be!  Try tofu a few different ways before you really pull out the verdict, like in this Spiced Tofu Briyani.
The recipe for this chilli tofu was developed alongside my aunty who first introduced me to the dish as "Chilli Paneer". It's fairly heavy on using bell peppers but you could also substitute other veggies such as sliced mushrooms or peas. Let me know what you think!
By the way…this is the kind of dish that tastes even better the next day.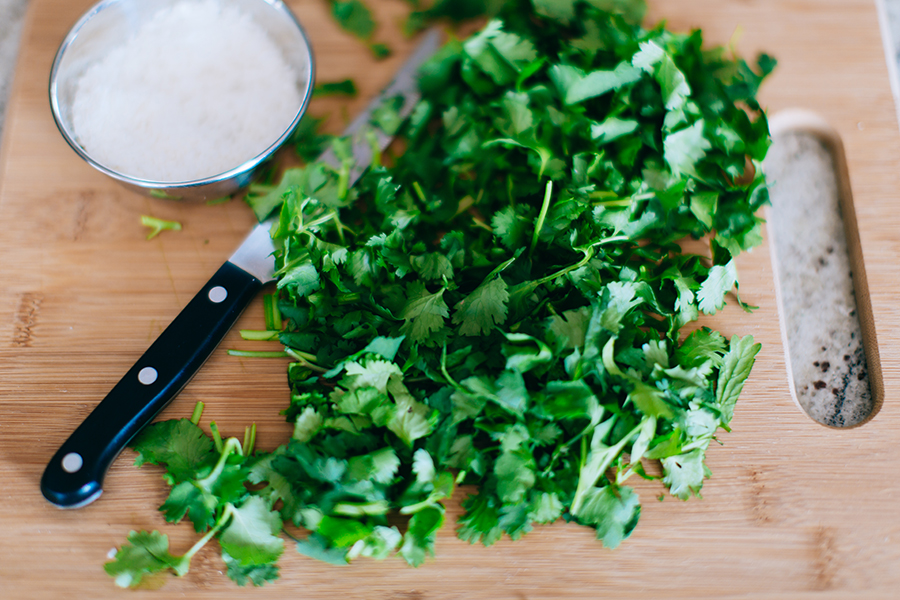 Indian Chilli Tofu
Ingredients
1 brick of extra firm tofu, chopped into ½" pieces
3 tbsp canola oil
½ tsp whole cumin seed
1 medium sized onion
1 tbsp ginger, minced
¼ tsp salt
¼ tsp chilli (or more as tolerated)
½ tsp black pepper
1 tsp turmeric
3 bell peppers, diced in 1 inch pieces (use yellow, green and red)
1 ¼ cup crushed, canned tomatoes (preferably reduced sodium)
1 tsp sugar
½ cup water
¼ tsp ground cumin (preferable toasted)
2 tbsp fenugreek *optional
Instructions
Place oil in a shallow pan (wok style) turn up the heat to medium. Once heated, add in cumin seeds. Be careful not to burn them!
Add in onion. Once translucent, about 5 – 6 minutes, add in ginger and peppers.
Add in spices: salt, chili, black pepper and turmeric.
Cook for another 5 minutes until peppers are slightly tender but still crunchy!
Pour in crushed tomatoes, sugar and water (water is added to create more of a saucy consistency; if you're not a saucy person then you can omit this).
Add ¼ tsp ground cumin and 2 tbsp fenugreek.
Turn heat to a low simmer. Add in your cubed tofu, stir gently and be careful not to over mix. Cover your pan and simmer on a low temperature for 10 – 12 minutes. This allows all the flavor to meddle.
The color should be bright and vibrant!
Serve with roti, naan or rice. Best served with a side of plain yogurt.
Before you leave, check out this fun stop motion video about the girls night in I hosted, trust me you, you're going to want to see it! It's pretty darn cute if I don't say so myself!
– With Love, Carrots and Cake,