If you're living somewhere that is currently in the middle of winter (read: "Winterpeg, Manisnowba"), cold and raw veggies is probably the last thing you feel like eating. On the other hand, many of us are trying to UP our veggie intake. Salad is a great way to increase the amount of fruit and vegetable servings in our diet, but it can get old pretty fast.
We have a secret though (shhh): with a little creativity, salad doesn't have to be boring, and yes, they can be hearty. Here are some tips to creating your own salads that you'll actually look forward to eating this winter (and no one will be accusing you of eating rabbit food! How rude!):
 salad doesn't have to be boring
Warm it up. Roast some of your vegetables to bring out those warm, nutty flavours – you can play around with spices such as cinnamon, cumin or chili to add an extra dimension of flavour. When prepping ahead of time, pack the cooked portion separate from your greens so you can warm it up right before eating, and keep the greens from getting soggy. Veggies that love to be roasted: broccoli, beets, peppers, cauliflower, green beans, squash, zucchini, eggplant, and potatoes. Here we opted to roast cauliflower. Isn't it gorgeous?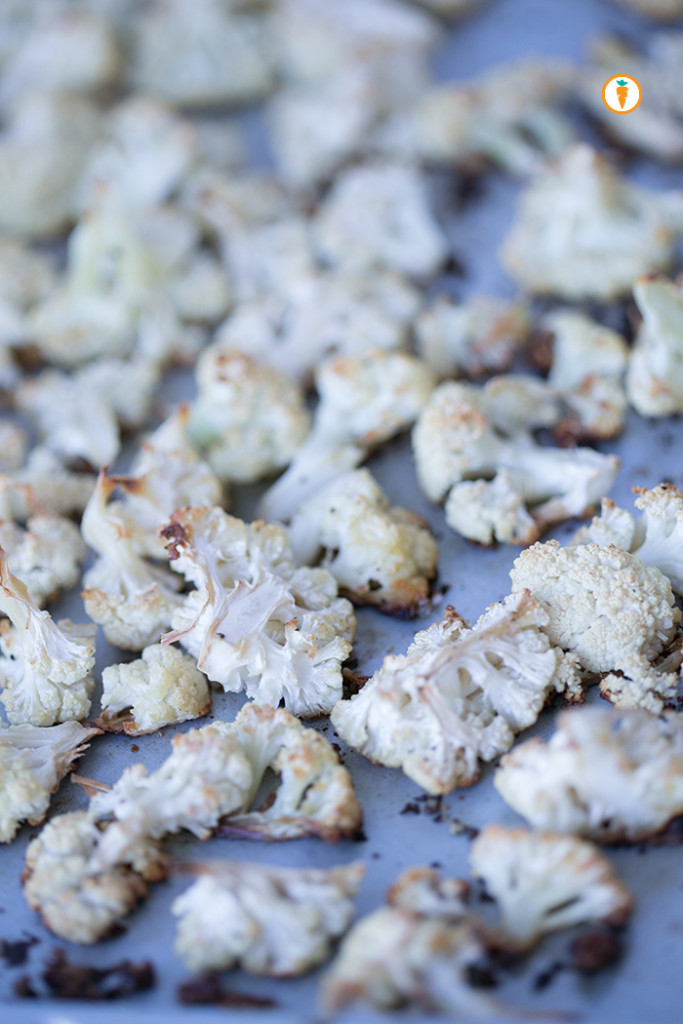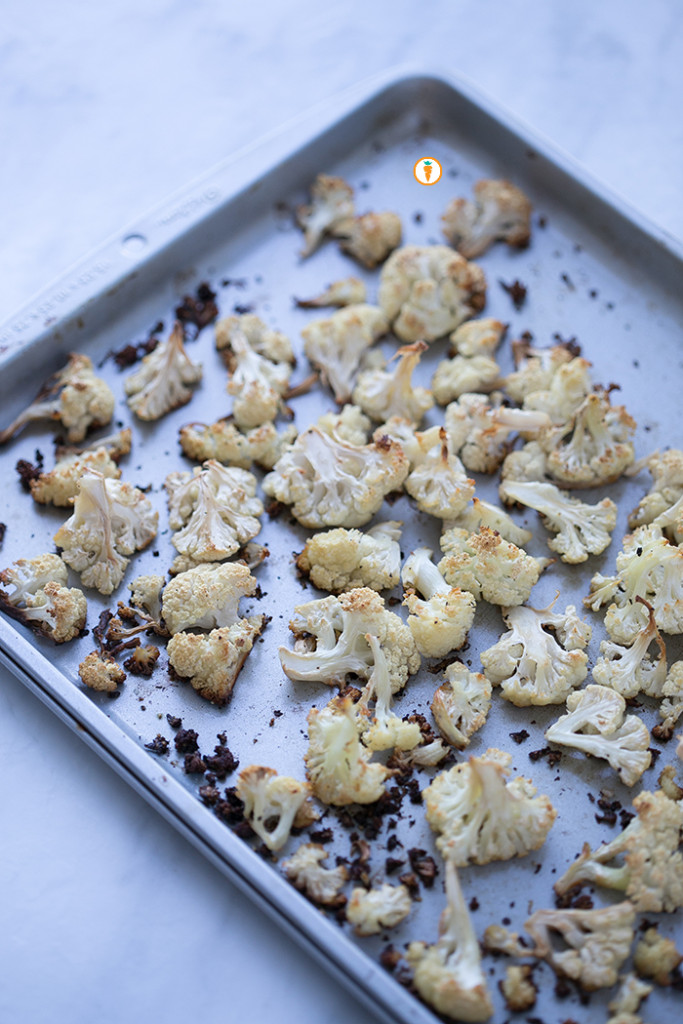 Stay balanced. Be sure to include carbohydrates (aka carb) and protein in your salad if you are having it as a meal. Got that? IT IS NOT A MEAL WITHOUT CARB AND PROTEIN. Doing so will ensure that you feel full and that you consume a variety of nutrients (oh and it will keep you from reaching for that candy bar when hunger strikes).

Carb options: brown rice, quinoa, bulgur, potatoes, sweet potato, or squash.
Protein options: grilled or steamed chicken breast and salmon, tofu, beans, chickpeas, and lentils (Psst: 2016 is the year of pulses! More on that in a later post).
Eat the rainbow. We all know that we eat with our eyes first, but including a variety of colours not only makes your salad pretty, it ensures that you are also getting a variety of vitamins and minerals with each bite. Opt for dark, leafy greens as a base, and then add 2-3 other colours to the mix. Carrots, red cabbage, beets, pomegranate, and squash are all in season.
Dress to impress. When choosing a dressing, vinaigrettes are the better option, as they have less saturated fat than cream-based dressings such as caesar or ranch. If you prefer to purchase dressing rather than make your own, be sure to check out the ingredients list and choose a dressing that has simple ingredients that you can pronounce and would likely have in your pantry; such as oil, vinegar, and spices. Here's a simple go-to canola oil dressing I love. So simple.
Fake it till you make it. If you're a fan of creamy dressings, try using hummus, tahini (sesame seed paste), or plain yogurt as alternatives when making dressings.
Go nuts! Nuts and seeds are a great way to add healthy fat, protein, fibre and texture to salad. Try adding roasted and unsalted almonds, walnuts, cashews, pumpkin seeds or sunflower seeds for extra crunch and flavour.
Whew! The possibilities are endless when it comes to " a salad". The best way to avoid getting stuck in a rut is to experiment and see what works best for you.
ANYWAY, here is a cozy and delicious winter salad to get you started:

Cauliflower Salad Bowl
Ingredients
Kale
Edamame bean, steamed
Cauliflower
Quinoa, cooked
Pomegranate
Salt and pepper
2 tbsp extra virgin olive oil plus extra for drizzling
1 tbsp maple syrup
1 tbsp white wine vinegar
Instructions
Preheat oven to 350 degrees celcius.
Chop cauliflower into bite size florets. Lay onto a baking sheet and drizzle lightly with olive oil. Sprinkle with a pinch of black pepper, salt and any other herbs you'd like to use.
Roast in the oven for 15 - 20 minutes until cauliflower is tender and beginning to brown.
In the mean time, assemble your salad bowl by combining kale, steamed edamame beans, cooked quinoa and pomegranate. Add as much or as little of each ingredient as you wish.
For the dressing, whisk together 2 tbsp extra virgin olive oil, 1 tbsp each of maple syrup and white wine vinegar. Pour over salad and massage into your kale (this helps to tenderize and soften the kale).
Once the cauliflower is ready, add it onto your salad bowl. Enjoy!
This blog post was written by Christy Lai, 4th Year Human Nutritional Sciences student. Follow Christy on Instagram, trust me, you'll want to.
Food photography done by the talented Ceone Dyck. To learn more about Ceone click here or follow her on Facebook.
                 – With Love, Carrots and Cake,