As you can likely tell from the few posts I've had since the birth of this blog, I'm a HUGE proponent of sourcing plant based foods as a source of protein. Where do I begin? Beans, legumes, lentils and nuts are packed with protein and heart healthy nutrients to keep your ticker in top shape!
This particular recipe for roasted chickpeas is ridiculously easy and incredibly tasty. What more do you want out of a recipe,  like really? If you're new to beans, you can purchase them dry and boil until tender. Inspect your dried chickpeas before cooking, throwing out those that are shriveled or have broken skin. You might find some pebbles or twigs which can be discarded. For every cup of chickpeas, soak with 3 cups water. Chickpeas need to be soaked for at least four hours or preferably for 8 hours. To keep things easy, soak them overnight. Throw out the soaking water by putting chickpeas into a strainer and rinsing them well. This washes away the carbohydrates and sugars that cause gas. For more information on chickpeas, check out this article from Eat Right Ontario.
Or, you can easily find canned versions. If you're going this route, be sure to rinse them thoroughly. Either way, ensure you allow enough time for the chickpeas to completely dry out, otherwise they may not roast nicely for this recipe.
I typically stash these in an airtight container in the fridge and nibble on the chickpeas a little bit at a time. Another way to enjoy this recipe is by tossing them onto a salad. They offer an added "kick" to any salad and a pretty awesome crunch.

Spicy Honey Roasted Chickpeas
Ingredients
1 28oz can chickpeas
2 Tbsp canola oil
2 tsp cumin
2 tsp paprika
1 tsp garlic powder
Pinch of black pepper
1 Tbsp honey (or agave nectar)
Instructions
Preheat oven to 350 degrees.
Drain, rinse and dry the chickpeas. You can also use a salad spinner to help them dry a bit faster.
Mix the cumin, paprika, garlic powder and black pepper into the oil. Stir honey into this mixture.
Toss this dressing onto the chickpeas until evenly coated.
Spread the chickpeas in an even layer on a rimmed baking sheet and bake until crisp, about 30 to 40 minutes. Check up on your chickpeas every 10 minutes and roll them around with a spatula.
And, enjoy!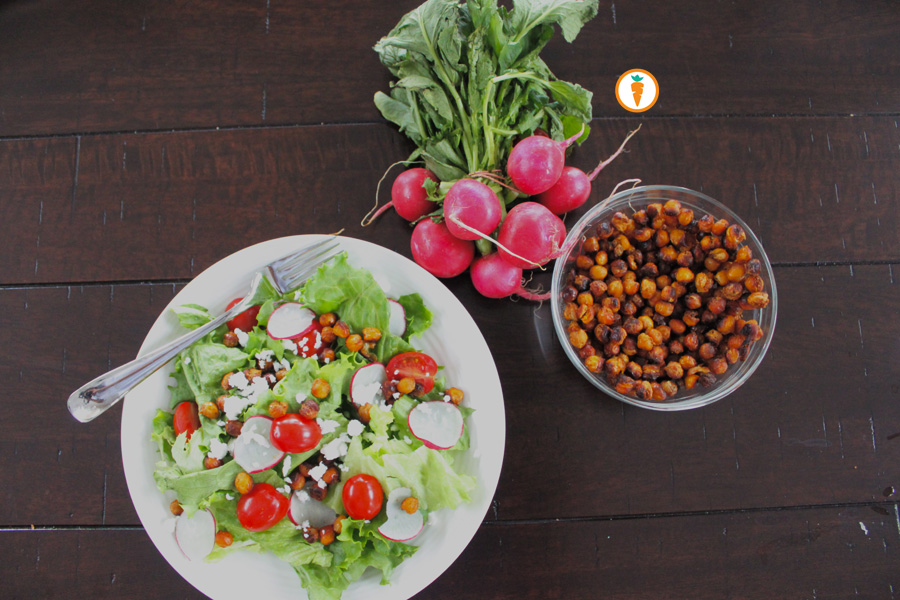 – With Love, Carrots and Cake,